Jerusalem Prayer List May 2, 2019
Today is Holocaust Remembrance Day 2019. Here is an article on the significance of this day. I suggest you read it.
This Shabbat the reading of the Torah is from Leviticus chapter 19:1-20:27, and the reading from the Prophets is: Ashkenazi – Amos 9:7-15, Sephardic – Ezekiel 20, Yemenites read Ezekiel 20:1-15. We read from the New Testament Mark 12:28-34.
This portion of the Torah reading for me is one of the most important from the whole Torah. The reason is very simple. Parashat Kedoshim is the only place in the whole Bible that actually tells us what in practical terms means for us to be holy . We are commanded to be holy in Leviticus 19:1-2. This command is repeated in the following places in God's Word:
Leviticus 11:44,45; 20:7, 26; 21:8; Exodus 19:6; 2 Corinthians 7:1; 1 Peter 1:15,16; Numbers 15:40; 1 Thessalonians 4:7; Hebrews 12:10. The repetition of the command to be holy, like God is holy, is an indication of the importance of this command.
The only problem is that most of us are not being taught practically of what it means to be holy, and how in practice one can be holy and practice holiness. So, this command, to be holy like the Lord is holy, is for most Christians a very frustrating command.
We are commanded to be like God, holy! In most cases, we are not given practical ideas and commands that take this big command and break it down to practical things that we can do and practice to make this command something that we can do.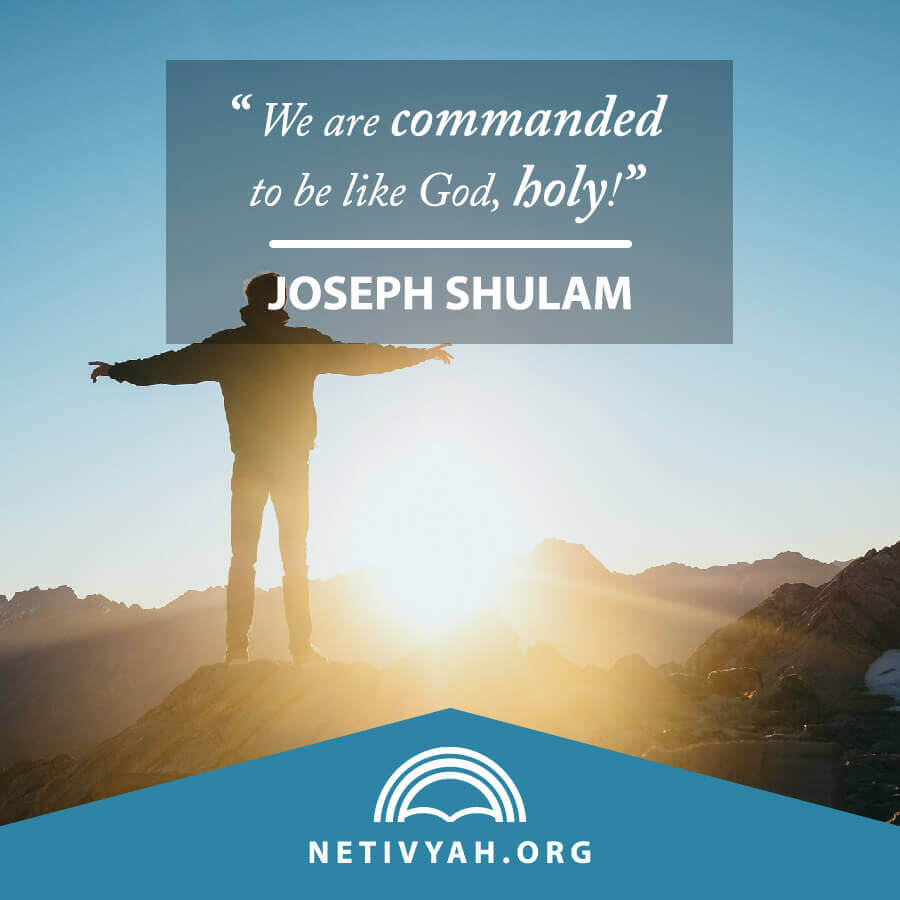 Here comes the simple Jewish understanding of the biblical texts: The principle is that you state a rule and then give the detailed practical principles in order to live up to the rule. In law practice this is a well-known principle: you state the rule and immediately give the breaking down of the rule into smaller practical steps that will help you fulfill and keep the rule.
This is exactly what we have here in chapter 19 of Leviticus. So, what do we have in chapter 19 of Leviticus? We have the principle: be holy because I the Lord am holy . God is saying, "Be like Me!" This is what God expects from His children. Yeshua commands His disciples to follow Him, "Take up your cross and follow me!"
Immediately after the statement of the principle (be holy!) comes a list of practical principles that can be easily or not so easily practiced not on the heavenly level, but on the down-to-earth level. Here is the practical outcome of how to be holy like God is holy:
"You shall not steal; you shall not deal falsely; you shall not lie to one another. You shall not swear by my name falsely, and so profane the name of your God: I am the Lord." – Leviticus 19:11,12
"You shall not oppress your neighbor or rob him. The wages of a hired worker shall not remain with you all night until the morning. You shall not curse the deaf or put a stumbling block before the blind, but you shall fear your God: I am the Lord." – Leviticus 19:13,14
"You shall do no injustice in court. You shall not be partial to the poor or defer to the great, but in righteousness shall you judge your neighbor. You shall not go around as a slanderer among your people, and you shall not stand up against the life of your neighbor: I am the Lord." – Leviticus 19:15,16
"You shall not hate your brother in your heart, but you shall reason frankly with your neighbor, lest you incur sin because of him. You shall not take vengeance or bear a grudge against the sons of your own people, but you shall love your neighbor as yourself: I am the Lord." – Leviticus 19:17,18
"You shall keep my statutes. You shall not let your cattle breed with a different kind. You shall not sow your field with two kinds of seed, nor shall you wear a garment of cloth made of two kinds of material." – Leviticus 19:19
In the New Testament we have a very similar tactical approach. The Apostle Paul states the principle from 2 Corinthians 6:14-15:
"Do not be unequally yoked with unbelievers." – 2 Corinthians 6:14-15
This is the main principle. From here on we have the practical details of how not to be "unequally yoked with unbelievers."
Do not become partners with lawlessness people.
There is no room to make partnership of light with darkness. Just like the Messiah has nothing in common with Satan.
You cannot mix the temple of God with idols.
The proof of the rightness of these principles is in the verse:
"I will make my dwelling among them and walk among them, and I will be their God, and they shall be my people." – 2 Corinthians 6:16b (taken from Ezekiel 36:28)
The most important statement and verse in the whole Torah is:
"You shall not take vengeance or bear a grudge against the sons of your own people, but you shall love your neighbor as yourself: I am the Lord." – Leviticus 19:18
Most often only half of the verse is quoted. The context of this verse if of great importance. If you want to be holy like God is holy "you shall not take vengeance or bear a grudge against the sons of your own people, but you shall love your neighbor as yourself: I am the Lord."
Yeshua quoted this verse together with the Shema (Deuteronomy 6:4,5) in Matthew 22:37-40:
"And he said to him [the young lawyer who asked him the question], 'You shall love the Lord your God with all your heart and with all your soul and with all your mind. This is the great and first commandment. And the second is like it: You shall love your neighbor as yourself. On these two commandments depend all the Law and the Prophets.'" – Matthew 22:37-40
The Apostle Paul repeats the same two principles like Yeshua. Paul says in Romans 13:9,10,
"For the commandments, 'You shall not commit adultery, You shall not murder, You shall not steal, You shall not covet,' and any other commandment, are summed up in this word: 'You shall love your neighbor as yourself.' Love does no wrong to a neighbor; therefore, love is the fulfilling of the law." – Romans 13:9,10
Yeshua and Paul followed one of the great rabbis and president of the Sanhedrin that preceded Yeshua's Ministry, Hillel the Elder, who put these two verses from the Torah and said that these two verses are a summary of the whole Torah (Law) and the Prophets. Both Paul and Yeshua hold the ruling of this top Rabbi of the Pharisees as an important principle that is the summary of the Torah.
We all need to measure ourselves on this matrix between our attitude toward the Lord – "Love the Lord your God with all your heart and with all your soul and with all your mind (might)," "and love your neighbor as yourself." This simplification of the Torah into two rules is not making the Torah easier, it is making the Torah much harder to keep.
These two rules are really the matrix of all that our Lord and our Messiah is expecting from us. However, to keep these two rules – we have to keep much of the details of both the light and heavy demands that the Lord makes of us, when we love Him and love our neighbors as ourselves. Let us strive hard to keep at least these two key commands of the Torah, our Lord and Messiah, and the apostles.
Pray for our Prime Minister Mr. Benjamin Netanyahu. He has a big job in front of him. The Orthodox Jewish parties are tugging to get more money and more power because they have grown in number of seats in the parliament in the last election.
There are other small political parties that are doing the same, and each one wants much more than it deserves. Mr. Netanyahu has to be a magician to make it all work together and establish a good government for the State of Israel.
We are commanded to pray for our governments. I ask you as lovers of the God of Israel, and of the country of Israel, to pray that the best government will be established to lead this nation in the paths of righteousness.
There are still places to join us on the Netivyah 40th Anniversary Tour. This will not be a normal tour that most of the tourists to Israel take. It will be a special tour with special events and places that the guests of Netivyah will experience.
It is a celebration of God's grace and goodness, allowing us to minister and serve Him for 40 years. We chose 40 years because of the story of the Exodus from Egypt and the 40 years of the wilderness. We see this as a step into the second period of our service to God, with new-generation leadership and a renewal of the vision and the mission that God has for Israel and for the disciples of Yeshua.
Please pray for the conference that will be held in the middle of the month of May in Castelo de Vide, Portugal. We need your prayer support and your material support to make this conference what God wants it to be.
I especially appeal to brothers and sisters in Europe to join this conference because the Catholic Inquisition was, generally-speaking, a European problem. We need our brothers from Italy and from Spain and Germany and Finland and Holland to make a major effort to come to Castelo de Vide and be a part of this effort to restore the Marrano/Anussim Jews back to their identity and back to Israel.
Please make a special effort to participate in this important event for the future of Israel and the restoration of the descendants of the victims of the Inquisition to Israel, and their return to the land of Israel.
For information on how to attend this conference, please contact Daniel at Netivyah here.
You can also go to the web page of the Castelo de Vide municipality and see the program. It is not totally the final program, but you will get a picture of the important people who are going not participate in that conference.
Below is a nice flier prepared by the municipality of Castelo de Vide: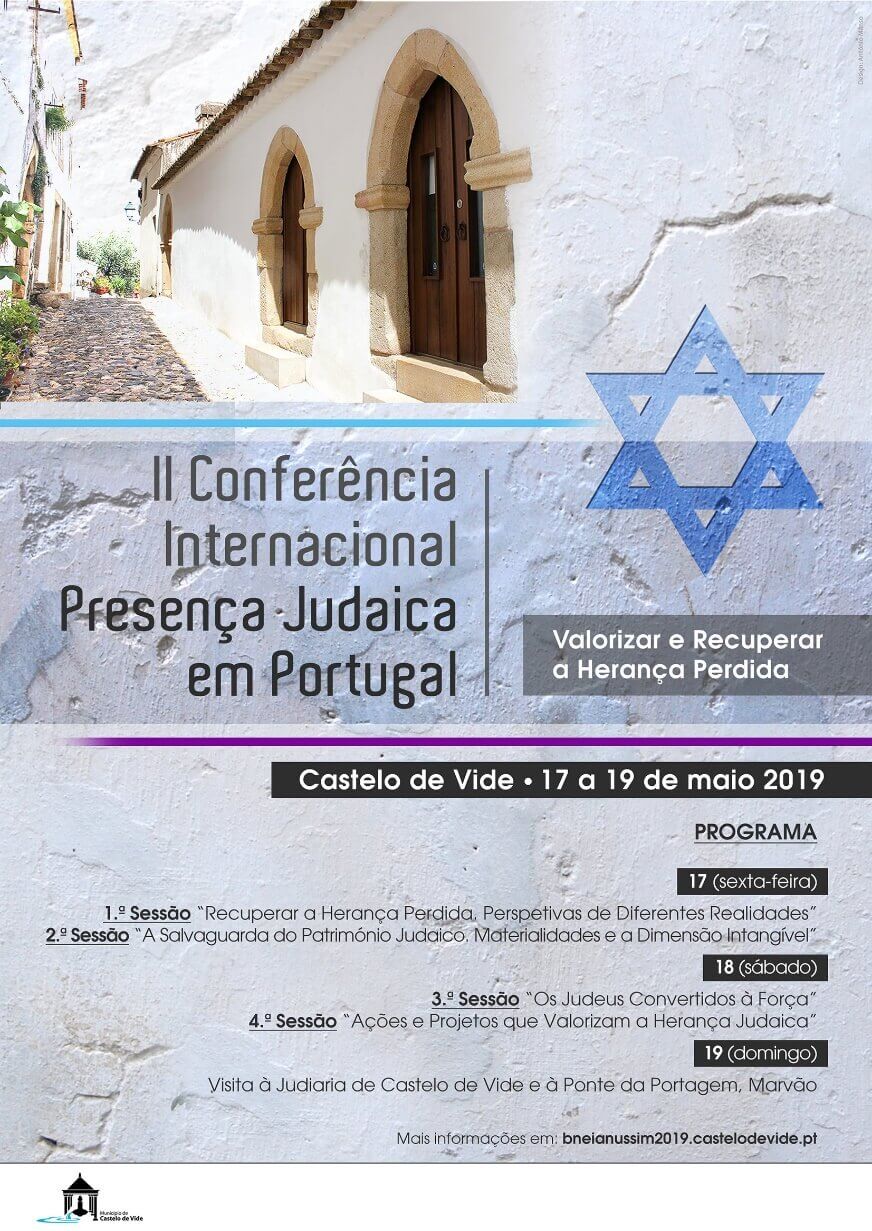 We have a very dear family living in Sweden that are faithful prayer partners for Israel and for Netivyah.  Pray for the Lucca family in Sweden. This precious family has been praying and standing with Israel for many years, and now several members of this family have some health challenges and need our prayers.Our dear sister Ruby Little in Oklahoma is suffering from the aftermath of chemotherapy. Ruby has to decide now if she will continue with more chemotherapy or defer this option.
Eli Levi is in Cincinnati, undergoing medical treatment for cancer. He is taking a second round of chemotherapy, and is already halfway through this second round. Please keep Eli in your prayers.
Please don't forget to pray for my family and especially for Marcia my dear wife, and Danah and Noaam and all those on this prayer list – that God will be glorified in their lives and in their healing. Keep Barry our son and his family in your prayers.
A special request from Belo Horizonte, Brazil: A dear brother and friend Dr. Altamiro has been hospitalized with a serious problem in the brain. Please pray for Dr. Altamiro who is a dear brother who is faithful in his walk with the Lord and loves Israel.
Keep Elena Litvak, Efim's widow, in your prayers.
Eddie Santoro is also in urgent need for prayer.
A dear brother and a leader of the Jewish Disciples of Yeshua in the United States, Robert (Bob) Weiner, needs us all to lift his name before the Lord God of Israel for healing and strength to go through heart surgery.
We appreciate so much the contributions for the purchase of the van for Netivyah. Almost every week someone is contributing funds for the purchase of the van for Netivyah. God is answering this prayer need. We need a few more brothers and sisters to make a significant contribution and we will be able to purchase the van and use it for the glory of God and for the service to the people of Jerusalem and the saints.
Please remember our dear brother Jacob Damkani in your prayers.
Dr. M. Song, from Korea, and his whole family needs our prayers.
Pray for Courtney for healing and strength. Keep Um Abu-Eid in your prayers.
Please continue praying for baby Lion from the Huch family in DFW. Little Lion is doing better, but still far from being out of the woods.
Please pray a special prayer for Ann West, a dear sister who has been praying for the salvation of Israel for many years. Now she needs our prayers!
Please continue to pray for our Jewish brother Hillel from Helsinki, and Keijo and Salme in Nokia, and for Tim Tucker, Anne-Mirjami, Satu-Maria and Anna-Majia, Sinni Tuuli, Erki and Sirpa, Evelina, and Eva H.
Pray for Patty, Andrea, and Tineke – and our brothers and sisters in the in the Netherlands that need healing from God.
Continue to pray for Julia and Victor. Pray for our dear sister Paula in Switzerland who needs a divine breakthrough.
Please keep praying for a dear sister named Zhou WenriIan living in China. Please intercede for Pastor Isaac in Chennai. Pastor Isaac needs healing for his kidneys.
I am also asking you to pray for a dear sister Ema! She has a big burden for a big school that she has built in China. Now we beg the Lord to bless Sister Ema and the school and her husband.
Margareta told me recently that she feels the effects of your prayers for her. Please keep Margareta in your prayers.
Please lift in your prayers the following brothers and sisters who need the Lord's gracious touch of healing: George, Gary, Melanie, and Aaron Hook and Nancy. Also, our congregation members, Sarit, David S., Gabriela, Ahuva, Leah, Ilana, Hannah, young Gabriela, Zvi D. and Elisheva, Jonathan B. and his wife Aviva. Our dear sisters Laurel, Orna, Sima, and Aviva. A special prayer is needed for one of my godsons, David B.A. and his family.
I wish all of you, who stand with Israel and who pray for Jerusalem, the best of the Lord's blessings and the fulfillment of all His promises to His faithful children.
Those who hear God and do His will are the ones who are called wise! Those who only hear His word and don't do it are called foolish! Let us all strive to be wise and never foolish! The best is yet to come! Israel will be saved!
Thank you for praying for Jerusalem and standing with us in this holy task of bringing good news to this land!
Published May 2, 2019 | Updated May 6, 2019
About Joseph Shulam
Joseph Shulam was born in Bulgaria in 1946 to a Sephardic Jewish Family. In 1948 his family immigrated to Israel. In 1981, Joseph and the small fellowship that was started in his house established one of the first official non-profit organizations of Jewish Disciples of Yeshua in Israel – Netivyah Bible Instruction Ministry. Joseph has lectured extensively and has assisted in encouraging disciples around the world. He and his wife Marcia have two children and two grandchildren.
Sign up for the Jerusalem Prayer List
Periodical Updates Helping You Pray for Israel