Jerusalem Prayer List May 8, 2019
Today is another Remembrance Day in Israel. Last week on Thursday was Holocaust Remembrance Day. Israel remembered the victims of Nazi aggression and the six million Jews that died in the Nazi extermination and labor camps that were planted all over Europe.
It was not one camp or two camps. The Nazi Extermination camps were spread from Holland in the West, to the killing fields of Ukraine, and all the way to the Russian border. There were camps outside Berlin. Yes, there was a camp that specialized in exterminating women, the name of the camp is Ravensbrück, it was only 56 miles away.
Most of the world has already forgotten World War II and the Holocaust that Germany organized in order to wipe out the name of Israel, Jews, and Zion. In Israel, the most famous motto is: "Never Again!"
Never again Masada, never again Nazi camps like Auschwitz, Ravensbrück, Bergen-Belsen, Orangeburg, Sachsenhausen, Treblinka, Bełżec, Sobibór, Sajmište, these are but a few of the Nazi extermination camps. You can easily google "Nazi extermination camps" and find a much larger list, and a map of where these killing machines were in Europe.
This was last week's day of remembrance. Today, Thursday, May 9, is another Day of Remembrance (Yom Hazikaron). Israel remembers the near 25,000 Israelis who died in the wars and terrorist attacks in Israel since the establishment of the State of Israel in the land that God gave Abraham, Isaac, and Jacob as an eternal inheritance. (See Genesis 13:15-16, 26:3-4, 28:4-13, there are many more places throughout the whole Bible.)
One of our own who was raised in our congregation, together with Daniel Stern, Yudah Bachanah, and Danah, was our Sunday school teacher, who died in the defense of Israel. Emanuel Levi, one of Israel's top fighter pilots. He is the person who planned the flight and the return to base of the squadron that bombed the Syrian atomic nuclear reactor in 2010.
Emmanuel Levi and his family are remembered with great honor in our congregation. We are proud of all our children who have grown up, and were discipled in our congregation. They have all excelled in service of the Israel Defense Forces, and we have several who are still serving, and a few who are soon entering the service.
So, today is a Remembrance Day for those who have sacrificed their lives for the fulfillment of God's promises of returning the Jewish people back to the land that He gave to our forefathers. These are honored and remembered in all of Israel, but also in our own congregation.
Just a note: Yehuda Levi, the father of Emmanuel Levi, is a faithful, active member of our congregation. We remember Emmanuel Levi as a fine young man, especially polite and kind to all, not a child that was looking for a fight, a peaceful and polite child and a good student.
Can you imagine what would happen if Syria's nuclear reactor still existed and would fall into the hands of ISIS? The area where this reactor was being built by the North Koreans was exactly in the area that ISIS controlled until recently.
Israel recognizes and thanks Emmanuel Levi every year for his wisdom and courage, leadership and sacrifice, for the nation of Israel.
Now about the Torah portion that will be read on Shabbat (in Israel): Emor, Leviticus 21:1 – 24:21, and from the prophets, Ezekiel 44:15-31. From the New Testament our reading will be from Luke 5:9-6:49.
The Emor portion of the Torah has some very interesting concepts that I would like to mention, especially for my brothers and sisters in the world today, and of course it includes ourselves and our brothers in Israel.
The first part of the Torah reading gives us instructions for the priests of Israel that are serving in the Temple.
Service in God's House will take away your freedom of choice.

You have to separate yourself (be holy – sanctified) from the rest of the people of God.
You cannot come as you are into the holy sanctuary. You have to prepare for it and wear the right clothing. You cannot follow the fashion of your generation and get any kind of haircut that you wish or that others might have.
When a good friend dies, you can't go to the cemetery and participate in his burial, because you are a priest of God, and going to the cemetery might make you ceremonially unclean for that day. You have to always be ready to perform your duty in the Temple of the Lord.
You can't desecrate your body with tattoos or with cutting marks on your body. You have to keep your body pure as a servant of God.
You can't take just anyone whom you choose to be your wife. You have to take a wife who is a virgin and from your own people. (For today this means a fellow disciple of the Messiah.)
How many men will be willing to become "preachers" today if there were these limitations on their freedom of choice? Today many want to have the honor of being servants of God, but not many would be willing to make the choice of being set apart, sanctified, as servants of God.

The second big topic in this Shabbat's reading is the feasts of the Lord. This is a real big issue in the Bible, but it is even a bigger issue in Christianity. The issue is big in the church, not because what is written in the New Testament, but because what has happened in Christian history (the Catholic churches) between the 4th and the 6th century A.D. (or the way that it is called universally, C.E. – Christian Era) During that time, and even starting a little earlier, the paganized Christian churches were alienating themselves from Israel and the Jewish Nation, and even from the Jewish disciples of Yeshua. They were alienating from Israel for clear political internal Roman issues. It is all well documented, and there is no question about it. (If you are interested to see some of the most striking documents of this systematic anti-Jewish and anti-Torah and anti-Old Testament campaign that the Catholic church set in motion, please read the following: John Chrysostom, Against the Jews. Homily 3
Yeshua and the apostles kept all the biblical feasts of the Lord, and this is clear from the New Testament itself. In fact, Paul commands the church in Corinth to keep the Passover with a clear command.
Read 1 Corinthians 5:7-8. You will find the command: "Let us therefore keep the feast." The reason is also given "Christ is our Passover." The how-to is also given:
"For indeed Christ, our Passover, was sacrificed for us. Therefore let us keep the feast, not with old leaven, nor with the leaven of malice and wickedness, but with the unleavened bread of sincerity and truth."
Next week starts the conference in Portugal. This is the 12th hour now. If you want to come and be a part of this important event I urge you to take action right now. In fact, it might be already too late.
I especially appeal to brothers and sisters in Europe to join this conference because the Catholic Inquisition was, generally-speaking, a European problem. We need our brothers from Italy and from Spain and Germany and Finland and Holland to make a major effort to come to Castelo de Vide and be a part of this effort to restore the Marrano/Anussim Jews back to their identity and back to Israel.
Please make a special effort to participate in this important event for the future of Israel and the restoration of the descendants of the victims of the Inquisition to Israel, and their return to the land of Israel.
For information on how to attend this conference, please contact Daniel at Netivyah here.
You can also go to the web page of the Castelo de Vide municipality and see the program. It is not totally the final program, but you will get a picture of the important people who are going not participate in that conference.
Below is a nice flyer prepared by the municipality of Castelo de Vide: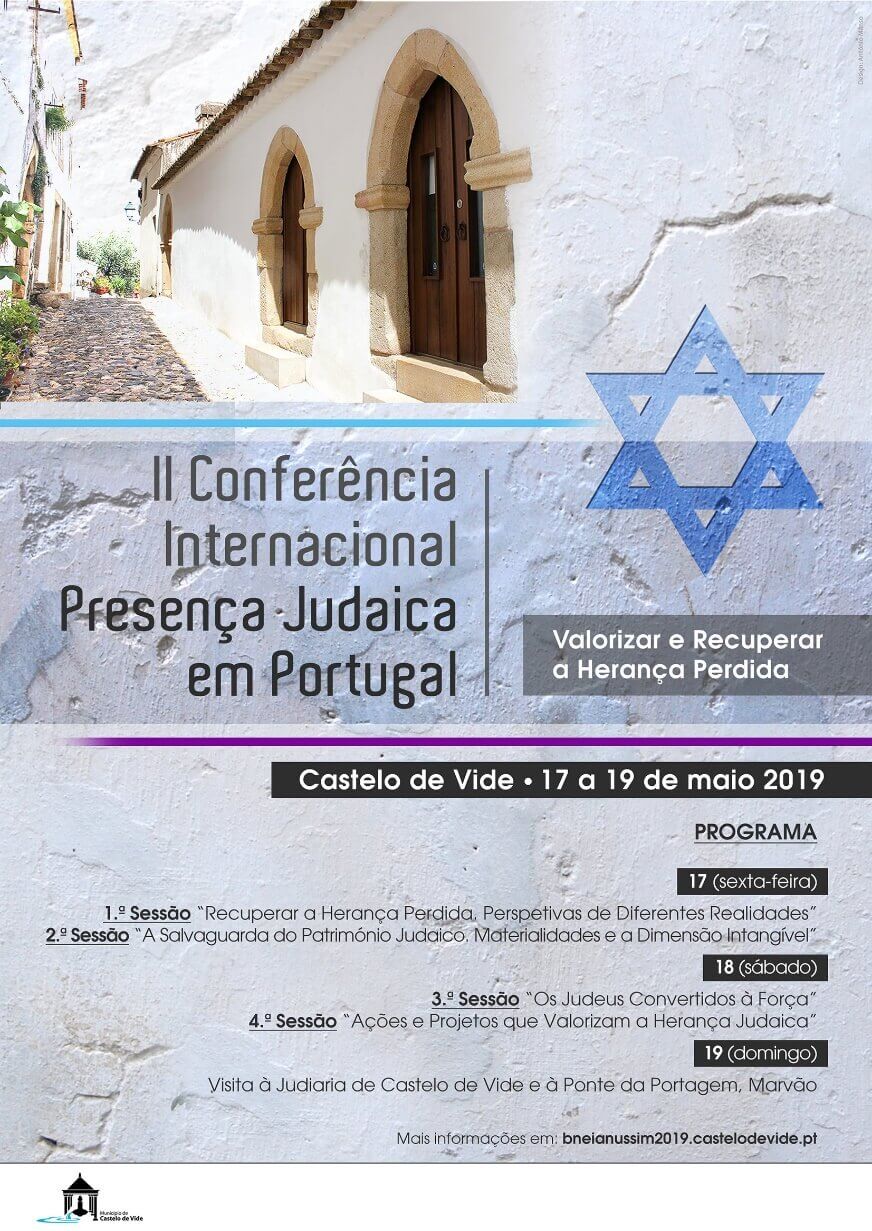 We have a very dear family living in Sweden that are faithful prayer partners for Israel and for Netivyah.  Pray for the Lucca family in Sweden. This precious family has been praying and standing with Israel for many years, and now several members of this family have some health challenges and need our prayers.
Our dear sister Ruby Little in Oklahoma is suffering from the aftermath of chemotherapy. Ruby has to decide now if she will continue with more chemotherapy or defer this option.
Keep Eli Levi in your prayers. He has finished his chemotherapy for cancer. He is now with his wife, visiting her family in California, and preparing to return to Bulgaria. All that we can say is Praise the Lord and pray that Eli will stay healthy and refocus his life to serve the Lord.
Please don't forget to pray for my family, and especially for Marcia my dear wife, and Danah and Noaam, my daughter and granddaughter, who need a special blessing from the Lord of Heaven and Earth, who is capable to resolve our health and other issues in a flash. Please also keep Barry, our son, and his family in your prayers, and Marcia's father and mother, who are very old and in need of strength and God's mercy.
Keep Elena Litvak, Efim's widow, in your prayers.
Eddie Santoro is also in need for prayer.
A dear brother and a leader of the Jewish Disciples of Yeshua in the United States, Robert (Bob) Weiner, needs us all to lift his name before the Lord God of Israel for healing and strength to go through heart surgery.
Please remember our dear brother Jacob Damkani in your prayers.
Dr. M. Song, from Korea, is one of the very important men of God who have done wonders for Israel, in Korea and in the world. He and his wife Harriet have literally sacrificed their lives for God's kingdom, and for the Jewish people in Israel and in the world. Now Dr. Song needs our prayers for his health and for his family.
Keep praying for Courtney for healing and strength. Keep Um Abu-Eid in your prayers.
Please continue praying for baby Lion from the Huch family in DFW. Little Lion is doing better, but still far from being out of the woods.
Please continue to pray for our Jewish brother Hillel from Helsinki and for his new bride, and Keijo and Salme in Nokia, and for Tim Tucker, Anne-Mirjami, Satu-Maria and Anna-Majia, Sinni Tuuli, Erki and Sirpa Murto, Evelina, and Eva H.
Pray for Patty, Andrea, and Tineke – and our brothers and sisters in the Netherlands that need healing from God.
Continue to pray for Julia and Victor. Pray for our dear sister Paula in Switzerland who needs a divine breakthrough.
Please keep praying for a dear sister named Zhou WenriIan living in China. Please intercede for Pastor Isaac in Chennai. Pastor Isaac needs healing for his kidneys. I hear from Pastor Isaac on WhatsApp and I know that our prayers are appreciated. Please ask for a miracle for Pastor Isaac in Chennai, India.
I am also asking you to pray for a dear sister Ema! She has a big burden for a big school that she has built in China. Now we beg the Lord to bless Sister Ema and the school and her husband.
Margareta told me recently that she feels the effects of your prayers for her. Please keep Margareta in your prayers – she is well on her way to being totally healed. It is miraculous and divine that our dear sister is healing.
Please lift in your prayers the following brothers and sisters who need the Lord's gracious touch of healing: George, Gary, Melanie, and Aaron and Nancy Hook. Also, our congregation members, Sarit, David S., Gabriela, Ahuva, Leah, Ilana, Hannah, Gabriela the young, Zvi D. and Elisheva, Jonathan B. and his wife Aviva. Our dear sisters Laurel, Orna, Sima, and Aviva. A special prayer is needed for one of my godsons, David B.A., and his family. Gary our dear brother especially needs to be touched by God's healing hand.
These are brothers and sisters from around the world who need your prayer and your intercession and healing: Paulo and Noami, Marcelo's parents in Belo-Horizonte, Brazil, Curita Sensei, the Abe family, Toru, Takeo Sensei, Daisuke Sensei, Tomoko San, Yumi, and her father and family.
In Hong Kong, we pray and ask you to join us and pray for Louisa and Tony. Keep our dear brother Goh and his family in prayer. Pray for Sister Christy in Korea. Please keep Brother Michael Knezevich in prayer. Please add Ismael Alves who lives in Portugal, and Asher Gabriel in Kenya, to your prayers.
We appreciate so much the contributions for the purchase of the Van for Netivyah. Almost every week someone is contributing funds for the purchase of the van for Netivyah. God is answering this prayer need. We need a few more brothers and sisters to make a significant contribution and we will be able to purchase the van and use it for the glory of God and for the service to the people of Jerusalem and the saints.
This next week there will be many people, including us from Jerusalem, traveling to Portugal for the conference. Please pray for God's blessings on our travel and safety and success of the conference in Portugal.
Thank you for praying for Jerusalem and standing with us in this holy task of bringing good news to this land!
Published May 8, 2019 | Updated May 8, 2019
About Joseph Shulam
Joseph Shulam was born in Bulgaria in 1946 to a Sephardic Jewish Family. In 1948 his family immigrated to Israel. In 1981, Joseph and the small fellowship that was started in his house established one of the first official non-profit organizations of Jewish Disciples of Yeshua in Israel – Netivyah Bible Instruction Ministry. Joseph has lectured extensively and has assisted in encouraging disciples around the world. He and his wife Marcia have two children and two grandchildren.
Sign up for the Jerusalem Prayer List
Periodical Updates Helping You Pray for Israel