Jerusalem Prayer List May 10, 2018
This week the reading in the Synagogue is B'Chutotai – (In My Statutes) from Leviticus 26:3-27:34. The first word in this important Torah Portion is "IF." This word is small and humble. However, it is one of the most important words in any language. It is a word that demands a decision. It is a word that gives choices. It is a word that forces us to stop being complacent and take charge of our life. Yes, it is a word that makes some people very uncomfortable, because they prefer not to take their lives in their own hand and make important decisions that might require action and confrontation and challenging work. Some people prefer to keep the status quo and not rock the boat and stay consistent in their present condition because making decisions might change things and they like things as they are now in their comfort zone even if their comfort zone is not so comfortable.
In this Parashah it is the LORD who give all of Israel than and now to every disciple and believer in God the CHOICE. This choice is the only significant and real choice that any human being has in a life time.
"If you walk in My statutes and keep My commandments, and perform them," (Leviticus 26:3 NKJV)
The other "IF" in this chapter is in verse 14ff:
""But if you do not obey Me, and do not observe all these commandments, and if you despise My statutes, or if your soul abhors My judgments, so that you do not perform all My commandments, but break My covenant," (Leviticus 26:14–15 NKJV)
Now I know that some critics will come now and say: "We are not saved by works of the Law . . ." Yes, that is true, but we are also not saved by disobedience and rebellion against God's commands. It would be enough for me to quote Yeshua Himself from HIS very last words before ascending to Heaven:
""All authority has been given to Me in heaven and on earth. Go therefore and make disciples of all the nations, baptizing them in the name of the Father and of the Son and of the Holy Spirit, teaching them to observe all things that I have commanded you; and lo, I am with you always, even to the end of the age."" (Matthew 28:18–20 NKJV)
May be I should bring a quotation from the Apostle Paul just in case some doubt the words of Yeshua:
"Or is He the God of the Jews only? Is He not also the God of the Gentiles? Yes, of course He is the Gentiles also, because there is only one God who will justify the circumcised by faith and the uncircumcised through faith. Do we annul the Torah through faith? For sure not! On the contrary, we keep the Torah." (Romans 3:29–31 JBS)
When you examine the blessings that come from obedience to God you immediately see that it is the wise decision to make in life. Here are some of the blessings that God promises to brings to a person's life when he lives an obedient life: fertility to the land, peace, strength to deal with your enemies, good family life, God Himself will dwell among us and walk with us, God will keep HIS promises to us, and He will break the our bondage and make us walk upright.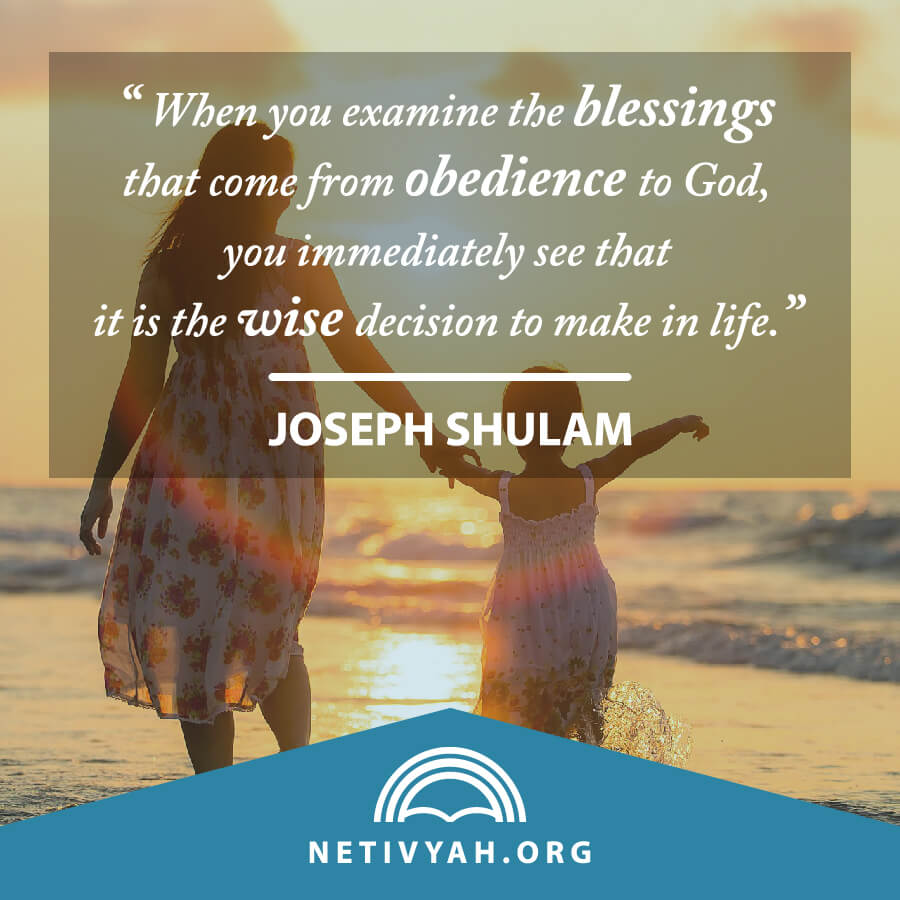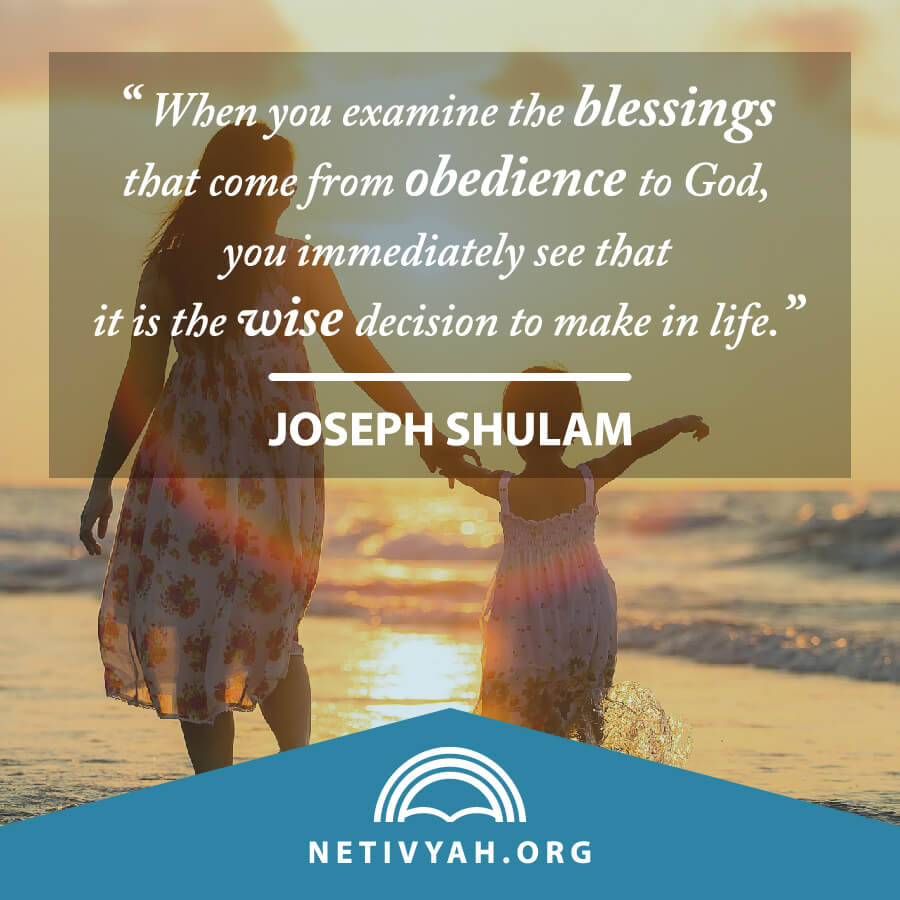 When we make the bad choice, the choice to disobey and rebel against God and against His commandments terrible things will happen to us things that none wants in his life or in the life of his family. If you are interested to find out more what terrible things will happen to those who rebel against God – go read them for yourself. However, notice the statistics: There are 11 verses of blessings for those who walk in obedience to God and do His will. There are 33 verses of courses for those who walk in rebellion and disobedience. You make your own choice and I believe that almost all who are reading this prayer list have already made their choice, the right choice: TO HEAR THE LORD BELIEVE IN HIM AND DO OUR BEST TO BE OBEDIENT TO HIS COMMANDMENTS.
This week was a very dramatic week for us here in Israel. President Donald Trump made a brazen decision to separate the United States of America from the Iran Nuclear accord. In Israel 99% of the population is jubilant and very happy for President Trump's decision. The rest of the world is not so happy and is continuing to stand with the Iran nuclear farce accord. In a way this action by the USA will force Iran to show their real colors and intent. The Israeli Mosad (counter intelligence agency) was able to bring ½ a ton of paper work from Iran's most secret storage of classified material and prove that Iran's intention in developing Nuclear power was never for civilian use, and always with the intent to develop and implement an atomic bomb, a weapon of mass-destruction aimed at Israel first and second at Saudi-Arabia and the Persian Gulf Emirates. This one of the factors that convinced President Trump to take this bold decision. In Teheran (The capital of Iran) the authorities already judged and killed 11 persons whom they suspected of collaborating with Israel in the capture of the most classified archives of the Nuclear program of Iran.
Last night Iran attempted to keep their promise and punish Israel for the bombing of the T4 base in Syria and for the capture of their secrets. The launched a whole battery of GRAD missiles against military bases in the Golan Heights and the Galilee. Israel was able to down several of these rockets before they hit Israeli targets and also divert the other 20 rockets that never crossed the airspace of Israel. At the same time Israeli rockets and aircraft bombed near fifty Iranian military targets in Syria. The Russian and the Syrian military in Syria did nothing to interfere with Israel's punishing strike against the Iranian bases.
There is no doubt that the Middle East is heating up now. This requires God's Children to mobilize an army of prayer warriors that will stand with Israel, with justice, with truth, and with compassion, and intercede for Israel and for the Arab people in Syria, Iraq, the Palestinians, and Jordanians, Saudis, and Lebanese. The constellation of this situation could very quickly develop into something much bigger that can engulf the whole world in another terrible world war. I have a feeling that the stage of the last war is being set by the Almighty ONE of ISRAEL – the Creator of the World who so loved the world that He sent HIS only-begotten SON to save all those who believe. Of course, I am not sure that this is what is happening now, but it could be. If I was sure I would be a false prophet like so many others who have and many who still do predict what Yeshua Himself does not know, the day and the hour of His return.
Pray for Israel! Pray for the Israeli government to be wise and make the right decisions that will give peace a chance. Pray the same prayer for the Palestinian leadership. Pray that they will wake up and think of what is good for their people and not the fake religious hate that they are mongering and feeding their poor nation against Israel and the Jewish people.Pray for the Iranian Ayatollahs that their evil intent against Israel will be converted into a healthy and wise desire to bless their nation and people and deliver them from the bondage of the Shiite radical Islam.
Please keep Praying for the situation on our northern frontier. Iran and the Hezbollah pray that they calm down and see the light and learn to love Israel rather than want to destroy it.
Pray for the President D. Trump to receive divine wisdom and continue doing what is good and right for America and for the world and of course for Israel, and Korea.
I continue to ask you to pray for Marcia my wife and her health, her pain from the Rheumatoid Arthritis, Diabetic, and some memory issues.
Pray for a very fine young lady Gabriela. She is a precious young girl who needs a whole lot of prayer for healing. She is a wonderful and smart and sensitive young girl that is dearly loved by all who know her, and she needs God's merciful hand to touch her and heal her.
Hillel a dear Jewish brother in Helsinki, Finland, also needs God's healing hands to touch his life and body.
Pray for Patty and Andrea are both relatives of dear brothers and sisters.
Pray for healing and recovery for a dear brother from Tiberias called Barry he had a stroke and is in the process of rehabilitation now.
Pray for the efforts of Zvi, a dear brother in the Messiah, who is working to build a nursing home for elderly brothers and sisters from the household of faith. As you know the command in the New Covenant is to do good for everyone but first of all to those of the household of faith. These are the local disciples of Yeshua in this land. Millions of dollars are spent by Christians for Israel and even for Orthodox Jewish ministries who hate us and hate Yeshua our Lord. This is a great deception that is going on here in the Land of Israel since 1974 until now. Don't neglect your brothers and sisters in the Land of Israel. We are happy that there are Christians who want to bless Israel. We bless Israel with much more than money and charitable donations. Our we and our children serve Israel with everything from serving in the Israel Defense Forces (the Army) in the best and the most sensitive unites to feeding the poor of Jerusalem to spreading GOOD NEWS of love and grace from the Almighty God for the Jewish people and the World. So, please pray for Zvi and others who want to build in Jerusalem a place where those who are aging quickly will see the love of God and the community until they join the LORD and wait for the resurrection.
Continue to Pray for Julia. She is still in the hospital and feeling a little better.
Please keep praying for a dear sister named Zhou Wenrilan living in China.
Keep praying for the planned conference in Portugal in May 2019. This conference is to awaken governments and the world attention and press for the Restoration of the Anussim (Marranos) both spiritually and physically to their naturals home.
Please also pray for my daughter Danah and granddaughter Noaam and their health and strength and provision. They are so wonderful and need so much help from God and so much strength. May the Lord God of Israel in the name of Yeshua help them. The suffering is so long and so intense. I believe that it is time for the Lord to hear our prayers.
Please praying for Alexandra, a young lady, a new bride. We are seeking the LORD's blessing for Alexandra and husband in healing and strength.
Margareta is a dear Jewish sister who needs deliverance. Please keep praying for dear Ruby who has also suffered for long years and it is time for the Lord to hear our prayers for her healing. Um Abu-Eid is a dear old Arab sister. Please pray for her healing and strength. The list is still the same Tineke, Bida, George, Gary, Melanie, Aharon, Yuri Marianenko, Sarit, Ahuva, Leah, Ilana, Miraim, Yehuda H., David Stern, Paulo, Noami, Tim Tucker, Anne-Mirjami, Satu-Maria and Anna-Majia, Sinni Tuuli, Erki and Sirpa, Jaako from Vaasa, Keijo and Salme, Evelina, Eva H., Horace and June Marcia's father and mother, Marcelo's parents. Curita Sensei, the Abe family, Toru, Takeo Sensei, Daisuke Sensei, Tomoko San, Sadako San, Yumi and her husband, and her family in Okinawa.
Please continue to pray for these special brothers and sisters who are struggling with issues of this world and need divine wisdom and help to have better work and jobs, and other issues that are not physical illness but tests and trials in life. Please pray for Mr. Chung and Sister Lee. Please pray for Tony and Luiza our dear brothers in H.K. I have special concern for our dear brother Goh and his family, and for Sister Christy, Sister Laurel, and for Brother Michael Knezevich.
God bless and keep HIS promises to Abraham and bless all those who bless the Children of Abraham, Isaac, and Jacob. Keep you all healthy, blessed, and happy in all that the Lord is doing for you and for the world around you!
Joseph Shulam
Pray for the Peace of Jerusalem, and Pray for the Jewish Disciples of Yeshua in Israel
Sign up for the Jerusalem Prayer List
Periodical Updates Helping You Pray for Israel