Jerusalem Prayer List June 28, 2019
The upcoming Torah portion is Parashat Korah, from Numbers 16:1-18:32. From the Prophets the reading will be from 1 Samuel 11:14-12:22, and from the New Testament from Romans 13:1-7.
This is especially a difficult Torah portion to write about this Shabbat. It is especially difficult because in one month Israel has lost three pioneering leaders of the Messianic Jewish body. All three passed away and crossed the line from the physical realm that we call "life" to what is called "eternity."
Eddie Santoro, with whom I had a shallow acquaintance, but always correct and gracious, died after several years of dealing with brain cancer. Eliyahu Ben-Haim also passed away. With him I had not a frequent but also not a shallow acquaintance, a substantial relationship dealing with matters of substance and existential issues for Israel and the community of believers in Yeshua in the land of Israel. Eliyahu passed away in Scotland, suddenly and totally unexpectedly, from a violent microbe that attacked him in the leg, and even after the leg itself was removed that microbe didn't let go and Eliyahu died.
The third leader was actually very close to me and to Netivyah, Yeshai Reinhardt. Yeshai, like Eliyahu, died in their travels for their ministry. Yeshai was in New Jersey and had a massive heart attack.
First, we at Netivyah and in the Roeh Israel congregation in Jerusalem grieve for these brothers whom we are going to miss. Second, it is shocking for me that the reading of Parashat Korah is in this time.
With no direct connection to the death of the Israeli leaders of the body of the Messiah that passed away in the last few weeks, reading Korah this Shabbat is difficult. The portion of Korah deals with the rebellion of very important leading families against the leadership of Moses and Aaron. This rebellion against the leadership of God's chosen leaders was based on three principles that are nowadays modern and even post modern.
Read what the word of God says about this rebellion:
"Now Korah the son of Izhar, the son of Kohath, the son of Levi, with Dathan and Abiram the sons of Eliab, and On the son of Peleth, sons of Reuben, took men; and they rose up before Moses with some of the children of Israel, two hundred and fifty leaders of the congregation, representatives of the congregation, men of renown. They gathered together against Moses and Aaron, and said to them, 'You take too much upon yourselves, for all the congregation is holy, every one of them, and the Lord is among them. Why then do you exalt yourselves above the assembly of the Lord?'" – Numbers 16:1–4 [NKJV]
The first basis of this rebellion was the value of equality. This value was born and made "holy" during the French Revolution of 1879. Three values that are very popular today were raised during this revolution: equality, liberty, fraternity.
Of course, these are very important human rights and values. But when they are taken to the extreme and with the wrong and selfish motives, like during the French Revolution and much earlier in the Korahite rebellion, these important values can be harmful to the future of a civil and just rule of law and order.
The leaders of several important priestly families come to Moses and they demand equality. "We are just as good as you dear cousins Moses and Aaron." "We are from the same tribe of Levi and we also serve in the Tabernacle like your family." "We deserve equality and it is enough that you have set yourselves to be priests."
The challenge that these Korahite leaders gave sounds just and good and right today. The value of democracy is also the value of equality before the law. The claim is clear, "all the congregation is holy" – you Moses and Aaron are not the only holy people in the tribe of Levi.
We are all holy and therefore we deserve equal share of the total leadership. You can't be the only ultimate leaders. "We want democracy," they shouted in modern political language.
The problem with democracy and equality is that they bring up in human beings two bad qualities: selfishness and jealousy. Under a normal and fair society, with good moral and godly leaders, equality is not something that you demand, it is a value that you gain and receive.
The reason that I say this is because a demanding attitude is already a sign that expresses an attitude of rebellion. What Korah and his band didn't remember is that Moses never wanted to be a leader. This leadership of the children of Israel, while they were slaves serving in Egypt, was imposed upon Moses by the Creator Himself.
If we believe in God? If we believe that there is a loving God who created us and everything around us, we must also understand that He, our God, cares for us and provides for all all that we need. This includes the proper leadership for our place and time.
Different times require different types of leaders. In Israel during the formation of the state, a kind of short person, a type of Napoleon Bonaparte, took the leadership of the nation and established the State of Israel, David Ben-Gurion. Ben-Gurion was not an easy person to get along with. He was a very important person and without David Ben-Gurion the establishment of the State of Israel could have been delayed for decades, if not longer.
He was the right man for the right job. Moses seems much more accepting, a softer leader, because of his close relationship with God. So, in place of fighting for his own rights and leadership – Moses says: "Tomorrow morning the Lord will show who is His and who is holy."
In other words, the Lord will show you sons of Korah, and the rest of the leadership of Israel, who is holy and whom the Lord has appointed and chosen to be the priestly leaders of the children of Israel.
The result of this rebellion was horrible:
"Now it came to pass, as he finished speaking all these words, that the ground split apart under them, and the earth opened its mouth and swallowed them up, with their households and all the men with Korah, with all their goods. So they and all those with them went down alive into the pit; the earth closed over them, and they perished from among the assembly. Then all Israel who were around them fled at their cry, for they said, 'Lest the earth swallow us up also!' And a fire came out from the Lord and consumed the two hundred and fifty men who were offering incense." – Numbers 16:31–35 [NKJV]
What killed the Korahites and their rebellion? It was first and foremost selfishness. After the selfishness came their desire for power to rule. The thirst to dominate and be recognized as equal to Moses and to Aaron.
But, maybe the worst ingredient of this bloody story is that this jealousy from someone whom God has chosen to lead, and whom He equipped with the abilities and tools to lead His people, was so disproportionate and out of place. These people from the tribe of Levi had a very important task, as Moses said to them:
"Hear now, you sons of Levi: Is it a small thing to you that the God of Israel has separated you from the congregation of Israel, to bring you near to Himself, to do the work of the tabernacle of the Lord, and to stand before the congregation to serve them; and that He has brought you near to Himself, you and all your brethren, the sons of Levi, with you? And are you seeking the priesthood also?" – Numbers 16:8-10 [NKJV]
These sons of the tribe of Levi had a very honorable position. God had taken them and separated them from the rest of the congregation of Israel to be His servants to be close to Him, but they were unhappy with just being God's servants. They wanted the priesthood.
They wanted equality with Moses and Aaron. Their motives were not to serve God but to be equal to Moses and Aaron and receive the same rights and privileges that Moses and Aaron had. That is, to be honored not as Levites, but as priests of God Almighty.
It is precisely this kind of search for equality that is bringing down democracies around the whole world. It is this hunger to rule and to dominate, without having earned that right by service, self-sacrifice, and dedication to the cause. We must understand that it is not always healthy or helpful to have the ambition and desire to be first.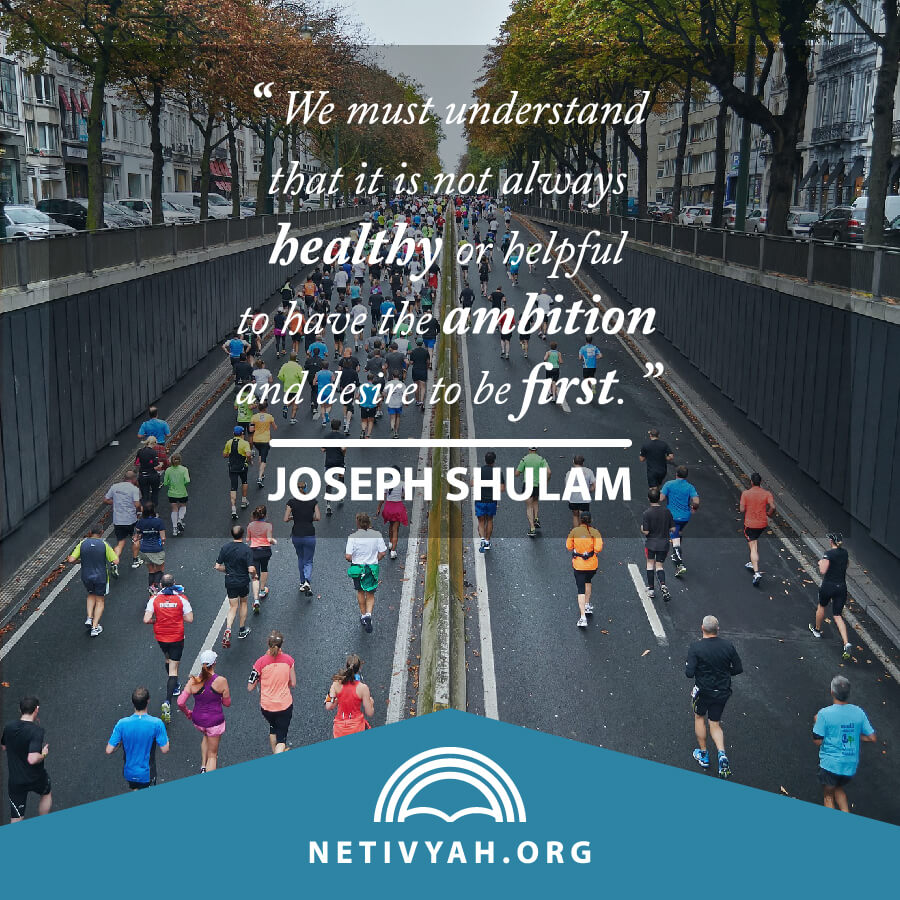 Seeking equality without seeing justice and honor as prime mitigators of our selfish desires and appetites to rule and dominate is the main downfall of great empires. The greatness of Moses is seen in the parasha reading in that in spite of Moses' anger and desire to demonstrate his authority to all of Israel, and especially to the Korahites, Moses interceded for these rebellious sons of Korah when God was angry:
"And the Lord spoke to Moses and Aaron, saying, 'Separate yourselves from among this congregation, that I may consume them in a moment.' Then they fell on their faces, and said, 'O God, the God of the spirits of all flesh, shall one man sin, and You be angry with all the congregation?'" – Numbers 16:20–23 [NKJV]
Moses gives God the same argument that Abraham gave God in the discussion of Sodom and Gomorrah. Abraham argued with God, and God was willing to argue with Abraham. God was willing to stop the punishment of Sodom if they had even 10 righteous men.
However, when we see God in action exercising His right to do justice and restore righteousness even against His chosen and elected nation, we understand that the Lord, God of Israel, is truly no respecter of persons. And everyone, from the highest to the lowest, will receive his just reward or just punishment, in the right day and in the right hour.
As human beings we all want what the French Revolution was fighting for. We all want equality, liberty, and fraternity. However, with these very important and high values there has to come other values that will help us control and put in place the checks and balances to keep our liberty, without taking the liberty of our neighbors and fellow humans.
To work for equality, but not out a sense of "you owe me!" To seek fraternity without the abuse selfishness and self-service by the abuse of our liberty and equality, but with the desire to serve the whole community with that same equality and liberty for all.
We like to quote that God is the same yesterday, today and tomorrow. We forget that what is also spoken of this same God, the God of Abraham, Isaac, and Jacob:
"For if God did not spare the natural branches, He may not spare you either." – Romans 11:21 [NKJV]
"For if God did not spare the angels who sinned, but cast them down to hell and delivered them into chains of darkness, to be reserved for judgment; and did not spare the ancient world, but saved Noah, one of eight people, a preacher of righteousness, bringing in the flood on the world of the ungodly;" – 2 Peter 2:4,5 [NKJV]
"For if the word spoken through angels proved steadfast, and every transgression and disobedience received a just reward, how shall we escape if we neglect so great a salvation, which at the first began to be spoken by the Lord, and was confirmed to us by those who heard Him…" – Hebrews 2:2,3 [NKJV]
This aspect of God is not so popular today in Christian circles. But we must not forget that God is also called a consuming fire. And in the case of Korah and his band, this aspect of God is clearly demonstrated. So, I just want to again remind myself and you too that, "we can't escape if we neglect so great a salvation, which first began to be spoken by the Lord, and confirmed to us by those who heard Him…" (In the Old Testament and are for us as examples.)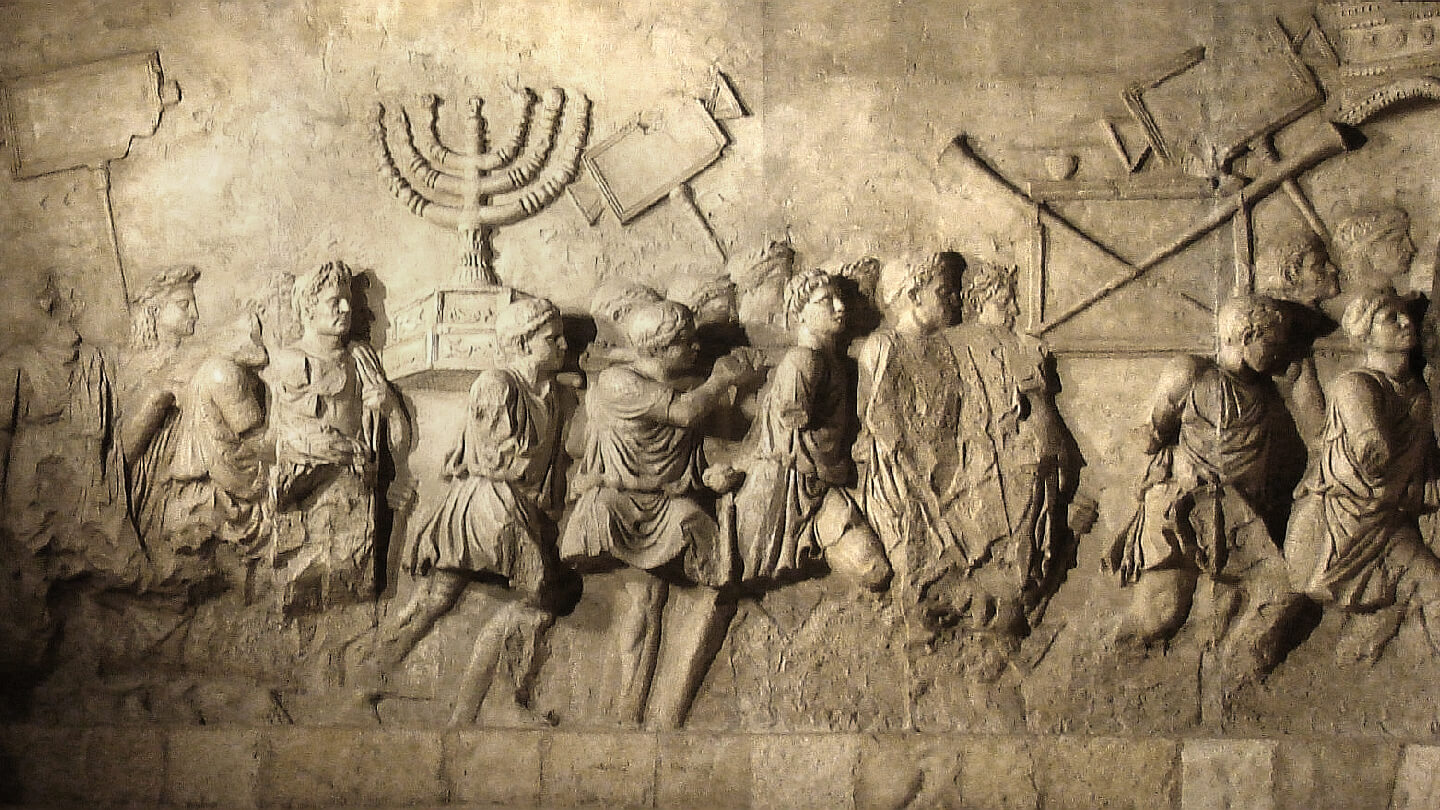 I share this photo from Titus Arch in Rome as a reminder that God promised to punish Israel and in the year 70 AD. The Roman emperor who destroyed Jerusalem built this victory arch in the center of the Roman forum, commemorating the destruction of Jerusalem. We must not forget the good promises, but also never forget the bad promises that God gave us through the mouths of His prophets.
I would like to ask you to pray for Eddie Santoro's family, and for Eliyahu Ben-Haim's family, and for Yeshai Reinhardt's family, and especially for his ministry in Sderot, Hands of Mercy. Yeshai was the living spirit of this ministry, and people from all around the world came to Sderot during the bombing and shelling from Gaza to serve and comfort the inhabitants of those who lived there.
Marcia and I are in the USA right now. We are in Nashville, Tennessee, and will remain here until the 8th of August. I ask you to pray for both Marcia and myself during these travels and very busy times. Pray for our health and protection, and pray that the Lord can use us for the good of His Kingdom in Israel and around the world.
Our granddaughter went through surgery (tonsillectomy) yesterday, and of course she is not feeling so good, but praise the Lord all went well. Please pray for Noam and for Danah during these days of recovery from this surgery. Please keep Marcia's father and mother in your prayers. They are old and sick, and living on the other side of Tennessee in the mountains.
Israeli politics are still the same, a total mess, and Israel needs the prayers of faithful Christians to intercede before God's mercy seat for the fulfillment of His promises and for the quick return of Yeshua the Messiah to Jerusalem, to set all things in order and establish His kingdom for ever! All this will be without democratic elections! This would be the most wonderful kingdom, and it will be eternal, and even without income tax and shopping. Praise the Lord of all forever!
Please praying for our dear sister Emma in China. Keep Ruby from Oklahoma City in your prayers. Eli Levi has returned to Bulgaria and is feeling much better, and feels that the cancer has been healed.
Keep Netivyah in your prayers. We have been blessed by brothers from around the world who love God, love Yeshua, and love Israel, and the funds for a new van are almost there, but almost is not enough, and we ask people who have not contributed for the van to make a little bigger effort and help Netivyah get the van. Transportation of people and supplies for the HaMotzi food distribution program and for the youth and the elderly is essential. This is not a van for private use, and the old van was not for private use, it served the community, and the food distribution program HaMotzi, for more than 15 years.
Please make an effort to join Netivyah's 40th anniversary tour and seminar in November 2019. It will be unusual and rich in content, and full of good surprises for the participants. This tour will be a celebration, not a political event. It will be an inspiration and not an entertainment show.
Yes, there will be some entertainment, and there will be some special events, and I hope some political figures, but altogether it will be special. It will be about the union and the grafting of our brothers from around the world with the seed of Abraham and the Land of Abraham, Isaac, and Jacob.
I ask all of you to mobilize your prayers to pray for the Aliyah and the return of the Anussim, both spiritually, outside of the adulterated brands of Christianity back to the pure waters of God's word, and also physically to the land of our forefathers, the land of Zion, Jerusalem.
Please don't forget to pray for my family and especially for Marcia my dear wife, and Danah and Noaam and all those on this prayer list – that God will be glorified in their lives and in their healing. Keep Barry, our son, and his family, in your prayers.
Keep Elena Litvak, Efim's widow, in your prayers, along with sister Altamiro from Belo-Horizonte. Our brother Bob Weiner is still in need of our prayers. Please remember our dear brother Jacob Damkani in your prayers. Please pray for Dr. Song and his dear wife Dr. Kim. They are Korean brothers for whom I have the most special respect and love. Also keep the other brothers and sisters in Korea who love God and love Israel and work for the salvation of Israel and the Jewish people.
Please keep the whole Abu-Eid family in your prayers. Please continue praying for baby Lion from the Huch family in DFW.
Please pray a special prayer for Ann West, she is 99 years old and continues praying for the salvation of Israel daily (you can also include Ann's dear son Roger and his family in your prayers). Pray for our Jewish brother Hillel from Helsinki, and Keijo and Salme in Nokia, and for Tim Tucker, Anne-Mirjami, Satu-Maria and Anna-Majia, Sinni Tuuli, Erki and Sirpa Murto, Evelina, and Eva H, all in Finland.
Pray for our dear sister Leah who is traveling to Finland this week. She is one of those volunteers from Finland who came in 1973 during the war and has served the Jewish nation as a volunteer nurse for many years. She just had her 86th birthday.
Pray for Patty, Andrea, and Tineke, and our brothers and sisters in the Netherlands that need healing from God. Continue to pray for Julia and Victor. Pray for our dear sister Paula in Switzerland who needs a divine breakthrough. I want to also add Barry and Dalia, two dear brothers who live in Tiberias and are suffering from illness and pain and are in need of prayer and help. Please keep praying for a dear sister named Zhou WenriIan living in China. Please intercede for Pastor Isaac in Chennai. Pastor Isaac needs healing for his kidneys.
Please lift in your prayers the following brothers and sisters who need the Lord's gracious touch of healing: George, Gary, Melanie, and Aaron and Nancy Hook. Also, our congregation members, Sarit, David S., Gabriela, Ahuva, Leah, Ilana, Hannah, young Gabriela, Zvi D. and Batsheva, and Jonathan B. and his wife Aviva. Our dear sisters Laurel, Orna, Sima, and Aviva. A special prayer is needed for one of my godsons, David B.A., and his family, and especially Elhanan and Julie David's father and mother, my dear friends and brothers. Keep the whole family in your prayers.
These are brothers and sisters from around the world who need your prayer and your intercession and healing: Paulo and Noami, Marcelo's parents, Curita Sensei, the Abe family, Toru, Takeo Sensei, Daisuke Sensei, Tomoko San, Yumi, and her father and family.
This prayer list is very special because we are not only praying for the physically sick brothers and sisters. We are praying for healthy brothers and sisters who are a blessing in God's kingdom, but they need that extra "what do you call it" to succeed and become a bigger blessing for the Lord and His kingdom.
In Hong Kong, we pray and ask you to join us and pray for Louisa and Tony. Keep our dear brother Goh and his family in your prayers. In Korea pray for Sister Christy. Please keep Brother Michael Knezevich in your prayers. Please add to your prayers Ismael Alves who lives in Portugal, and Asher Gabriel in Kenya.
I wish all of you, who stand with Israel and who pray for Jerusalem, the best of the Lord's blessings and the fulfillment of all His promises to His faithful children. Those who hear God and do His will are the ones who are called wise! Those who only hear His word and don't do it are called foolish! Let us all strive to be wise and never foolish! The Best is yet to come!
The Lord God of Israel and the grace of Yeshua our Messiah, King, Teacher, Rabbi, and Lord be with you all!
Published July 2, 2019 | Updated July 7, 2019
About Joseph Shulam
Joseph Shulam was born in Bulgaria in 1946 to a Sephardic Jewish Family. In 1948 his family immigrated to Israel. In 1981, Joseph and the small fellowship that was started in his house established one of the first official non-profit organizations of Jewish Disciples of Yeshua in Israel – Netivyah Bible Instruction Ministry. Joseph has lectured extensively and has assisted in encouraging disciples around the world. He and his wife Marcia have two children and two grandchildren.
Sign up for the Jerusalem Prayer List
Periodical Updates Helping You Pray for Israel