Jerusalem Prayer List July 2, 2018
Tomorrow is the 4th of July – United States of America's day of Independence. The United States of America needs your prayers and the prayers of the whole World. It is one of the most important countries in the world today because of the values on which this United States was created and the original Christian principles that the founding fathers held and wanted to rule by. The United States like much of the West these days needs a restoration of the original values that it was created in order to protect and preserve. The slow deterioration of the very foundation of morality and decency is something that ought to concern every disciple of Yeshua and believer in the God of Israel. Please lift your prayer for the USA and for the government and President of this great country and ask God to show His mercy and grace to the people and the nation of the US of A. This prayer ought to be done also for your respective countries and governments just as we in Israel pray for our government. It is a Biblical comand to pray for your government and if it was true in the days of the Apostles is it true today. The government in the first century A.D. – was not a good government and Caesar was not exactly an example of a good person or a moral person. Still the Apostle Paul and Yeshua exhorted the disciples to give Caesar what belongs to Caesar and to God what belongs to God. Pray Pray Pray!
This next Shabbat the reading will be Parashat Pinchas (Numbers 25:10-30:1) and the reading from the Prophets is from Jeremiah 1:1 – 2:3. Last week we read the dramatic story of Balaam and his donkey. The donkey was a smarted than the famous magician with international reputation. This week the reading starts with a very dramatic event in Israel's camp. The President of the Tribe of Simeon, Zimri the son of Salu, took the princes of Moab Cozbi the daughter of Zur and had sex with her in public in front of the Tabernacle of the Lord. This horrible act of rebellion and total rejection of the LORD God Himself – was done by the advice that Balaam gave to Balak. Balaam could not course Israel, but he found a way to bring Israel down by sending all the Moabite beautiful girls to seduce the men of Israel. This horrible advice took root in Israel and idolatry and immorality often go together and this is what happened in the camp of Israel just a short time before they were to enter the Land of Canaan that was promised to Abraham, Isaac, and Jacob as an in heritance forever. Now Moses and the elders of Israel are standing by and wringing their hands with sorrow. They are totally horrified, and they have both loss of words and loss of deeds, they are paralyzed.
While all this is going on a young man by the name of Phinehas the son of Eleazar, the son of Aaron the priest, takes the law into his own hands and takes his javelin in his hand; and he went into the tent and thrust both Zimri and Cozbi through. The javelin of Phinehas went through both the man and the woman and stuck in the ground killing both of them in front of the leadership of Israel. This brave young man Phinehas stopped the plague that was raging among the children of Israel.
You would think that both Moses and God would be angry with Phinehas for taking the law into his own hand and killing the two law breakers. He did it on his own. He did not ask permission. He did not wait for anyone to give him permission. Normally today in Israel Phinehas would go to jail. The opposite happened. God blessed Phinehas and he was made the chief of staff of the forces of Israel – a 4 star general for this act of bravery and for the initiative that he took in a moment where the older and wiser leaders like Moses did not know what to do.
There is a lesson in this my dear brothers and sisters – God more often than not – works outside the Box and honors and respects and rewards men that have that energy to do things that are outside the Box.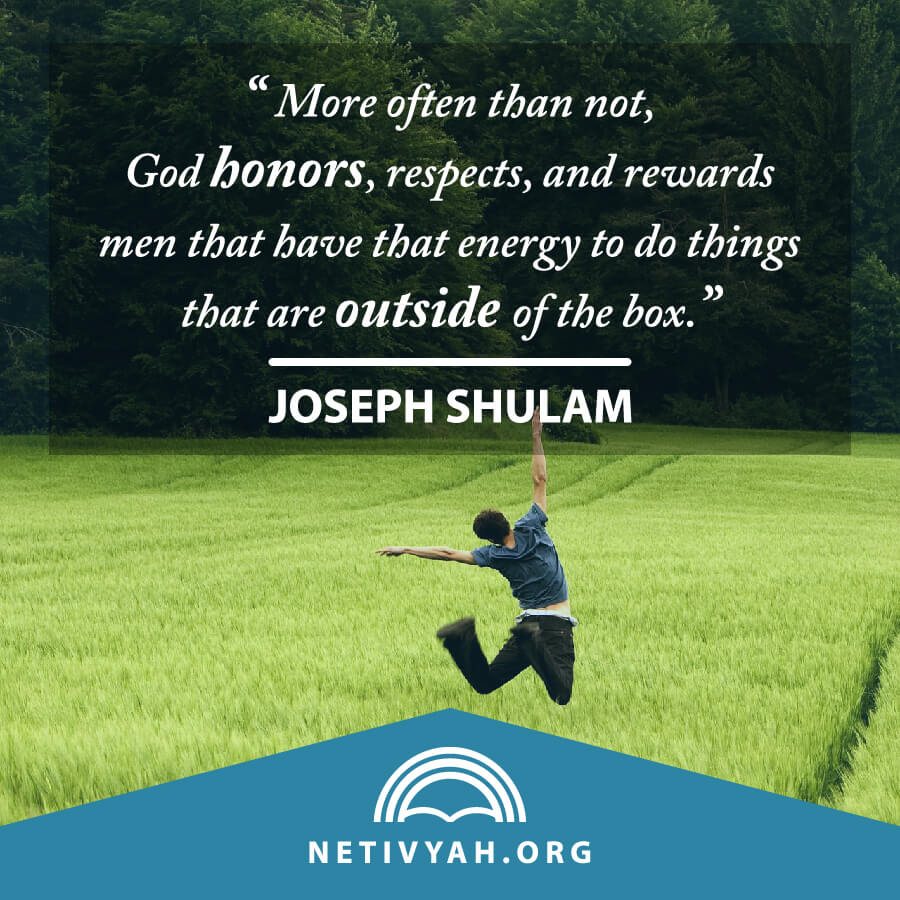 I have a very special Prayer request for a 28-year-old mother. Esther is her name. She is the sister-in-law of Adam R. who works in the Netivyah office. Ester has breast cancer that has complicated and now she is on life support. Please lift Esther before the throne of mercy of our Lord and join the family and all of us in this special prayer for a special young woman. Ask God to take Esther out of this very serious situation and restore her health and cure her cancer and bring her back home to care for her family.
Please for Beth and Joey, my daughter in law and grandson, they are heading back to Nashville, Tennessee, this Friday. Pray for an easy and safe trip home. We enjoy having them here in Israel with us. They are a bit anxious to get back home into their normal activities and pace of life.
Israel needs your prayers. Now we have tension both in our northern border with Syria and our southern border with Gaza. In the north – there are several hundred thousand Syrian refugees running from Bashar El-Asad's cruel and murderous intents. Israel is providing for the Syrians medical attention and over 3500 Syrians have been treated in Israeli hospitals and of course free of charge. Israel really does need your help in prayer first and in every other way. Right now, Israel is providing all the humanitarian aid that these people with children and old people need to survive, water, food, shelter, and medical treatments. Stand with Israel through the local communities of God's faithful servants.
Pray for a special seminar that will be held next month in Sofia, Bulgaria. Our Bulgarian brothers and sisters are planning it. The title of the seminar is: The Hebraic Roots of the faith and Scripture. Please pray for our brothers in the USA and in Bulgaria who are planning this seminar and pray for Marcia and I and Hannah – the three of us are going to serve and to bless and be blessed by our fellowship with brothers and sisters in Bulgaria. This is where I was born, and I have a special warm spot in my heart for Bulgaria and Bulgarian brothers and sisters in the Lord. You might not know that Bulgaria and England are the only two countries in Europe that did not hand their Jews to the Nazi German death machine.
Please continue to ask you to pray for Marcia my wife and her health, her pain from the Rheumatoid Arthritis, Diabetic, and some memory issues.
Pray for a very fine young lady Gabriela. She is now back home and feeling better. Continue to pray for her, please!
I have a special prayer request for a very young Lion from the Huch family in DFW that has been diagnosed with Leukemia. The baby is just a few months old and we all must mobilize to pray for this baby and for the whole Huch family. This family and especially the grandfather and grandmother of this baby and his father and mother are a great blessing for Israel and for Netivyah. On this ground I ask you all to lift up this baby and intercede before the Lord for his healing.
Please continue to pray for Hillel in who is a dear brother living in Helsinki.
Pray for Patty, Andrea and Tineke are all in Netherlands and need healing from God.
Pray for healing of Barry R. from Tiberias he had a stroke and is in the process of rehabilitation now.
Continue to Pray for Julia and Victor our dear sister and brother who both need healing and God's help.
Please keep praying for a dear sister named Zhou Wenrilan living in China.
Keep praying for the planned conference in Portugal in May 2019. This conference is to awaken governments and the world attention and press for the Restoration of the Anussim (Marranos) both spiritually and physically to their naturals home.
Please keep praying for my daughter Danah and granddaughter Noaam and their health and strength and provision. They are so wonderful and need so much help from God and so much strength. May the Lord God of Israel in the name of Yeshua help them. The suffering is so long and so intense. I believe that it is time for the Lord to hear our prayers.
Please pray for Alexandra, a young lady, a new bride. We are seeking the LORD's blessing for Alexandra and husband in healing and strength.
Margareta is a dear Jewish sister who needs deliverance and healing. Please keep praying for dear Ruby who has also suffered for long years and it is time for the Lord to hear our prayers for her healing. Pray for Um Abu-Eid is a dear old Arab sister. Please pray for her healing and strength. The list is still the same Bida, George, Gary, Melanie, Aharon, Yuri Marianenko, Sarit, Ahuva, Leah, Ilana, Miraim, Yehuda H., David Stern, Paulo, Noami, Tim Tucker, Anne-Mirjami, Satu-Maria and Anna-Majia, Sinni Tuuli, Erki and Sirpa, Keijo and Salme, Evelina, Eva H., Horace and June Marcia's father and mother, Marcelo's parents. Curita Sensei, the Abe family, Toru, Takeo Sensei, Daisuke Sensei, Tomoko San, Sadako San, Yumi and her husband, and her family in Okinawa.
Please pray for Louisa and Tony in Hong Kong. Louisa is a dear sister who needs healing from Cancer and Tony is a dear brother who needs healing emotionally and generally in his life and business.
I have special concern for our dear brother Goh and his family, and for Sister Christy, Sister Laurel, and for Brother Michael Knezevich. I have a special request from a brother Moshe Daniel from Kenya for his ministry and for the brothers in Kenya.
Please pray Ritva Huhtala and for sister Oksanen they need prayer for illness.
God bless and keep HIS promises to Abraham and bless all those who bless the Children of Abraham, Isaac, and Jacob. Keep you all healthy, blessed, and happy in all that the Lord is doing for you and for the world around you!
There are others that you know and I know that need the Lord's blessings and mercy. Please pray for them.
Now is the time to seriously pray for the Peace of Jerusalem and believe in God's promises!
Joseph Shulam
Sign up for the Jerusalem Prayer List
Periodical Updates Helping You Pray for Israel