Jerusalem Prayer List April 26, 2018
Prayer is all of the following:
Opportunity to talk to God.
Opportunity to express our gratitude and needs and wishes in an honorable and respectful way to the most powerful who is the ONE who can give an answer to our needs.
A privileged communication with the only power and person who can really answer our prayers.
An organized list of our thoughts in a clear way and show reverence to the Creator of all.
It is a kind a knocking on Heaven's door with our needs and requests and desires.
One of the most inspiring prayers in Bible for me is Daniel's prayer.
Here is Daniel's prayer:
"Then I turned my face to the Lord God, seeking him by prayer and pleas for mercy with fasting and sackcloth and ashes. I prayed to the LORD my God and made confession, saying, O Lord, the great and awesome God, who keeps covenant and steadfast love with those who love him and keep his commandments, we have sinned and done wrong and acted wickedly and rebelled, turning aside from your commandments and rules. We have not listened to your servants the prophets, who spoke in your name to our kings, our princes, and our fathers, and to all the people of the land. To you, O Lord, belongs righteousness, but to us open shame, as at this day, to the men of Judah, to the inhabitants of Jerusalem, and to all Israel, those who are near and those who are far away, in all the lands to which you have driven them, because of the treachery that they have committed against you. To us, O LORD, belongs open shame, to our kings, to our princes, and to our fathers, because we have sinned against you. To the Lord our God belong mercy and forgiveness, for we have rebelled against him and have not obeyed the voice of the LORD our God by walking in his laws, which he set before us by his servants the prophets. All Israel has transgressed your law and turned aside, refusing to obey your voice. And the curse and oath that are written in the Law of Moses the servant of God have been poured out upon us, because we have sinned against him. He has confirmed his words, which he spoke against us and against our rulers who ruled us, by bringing upon us a great calamity. For under the whole heaven there has not been done anything like what has been done against Jerusalem. As it is written in the Law of Moses, all this calamity has come upon us; yet we have not entreated the favor of the LORD our God, turning from our iniquities and gaining insight by your truth. The LORD has kept ready the calamity and has brought it upon us, for the LORD our God is righteous in all the works that he has done, and we have not obeyed his voice. And now, O Lord our God, who brought your people out of the land of Egypt with a mighty hand, and have made a name for yourself, as at this day, we have sinned, we have done wickedly. , "O Lord, according to all your righteous acts, let your anger and your wrath turn away from your city Jerusalem, your holy hill, because for our sins, and for the iniquities of our fathers, Jerusalem and your people have become a byword among all who are around us. Now therefore, O our God, listen to the prayer of your servant and to his pleas for mercy, and for your own sake, O Lord, make your face to shine upon your sanctuary, which is desolate. O my God, incline your ear and hear. Open your eyes and see sour desolation, and the city that is called by your name. For we do not present our pleas before you because of our righteousness, but because of your great mercy. O Lord, hear; O Lord, forgive. O Lord, pay attention and act. Delay not, for your own sake, O my God, because your city and your people are called by your name." (Daniel 9:3-19)
There are a few phrases that Daniel uses in his prayer to the Lord that I feel important for all of us to appropriate in our own attitude in prayer.
"Then I turned my face to the Lord God" This phrase is an Hebraism. We see the same phrase in Luke 9:51, Yeshua turned his face toward Jerusalem. The meaning of this phrase is that Daniel appealed to God (put his trust in God's righteousness). When we pray we must not approach the throne of God with arrogance or command God, but appeal to His mercy and grace. The habit that some have to command the "heavens" in the name of Yeshua has no example or such instruction in the Word of God. This would not work with a human executive in a normal corporation it will work even less when we talk to God.
"I prayed to the LORD my God and made confession." – Prayer in Hebrew means "self-incrimination." = confession. We must approach the throne of God clean because God knows all about us and there is no sense to hide our sins but to confess them before Him. In every prayer there is an element of confession of our weakness and sins.
Daniel 9:5-6, "we have sinned and done wrong and acted wickedly and rebelled, turning aside from your commandments and rules. We have not listened to your servants the prophets, who spoke in your name to our kings, our princes, and our fathers, and to all the people of the land." The confession is a confession of the following:

We have sinned and done wrong.
We have acted wickedly by turning away from God's commandments and rules.
We have ignored God's servants the prophets. (This is the reason that Israel was sent to exile.)

A part of our prayer must be a confession of the righteousness of God. He is righteous in all his ways and although in some chapters of history it is difficult to confess that God is righteous in his actions are righteous even when He allows our enemies to get the best of us.
The sin of Israel is collective – this concept is of prime importance. Our sins are not only an issue of our personal, individual, transgression. We have individual sins and we also have collective sins that we and our fathers did to our own shame. We are a part of a whole and a part of our enlarged family and nation and group. When we sin we actually incriminate our friends and brothers who are doing their very best. The rule of one for all and all for one is clear in Israel and in the relationship of the nation. The best example is the case of Achan in the book of Joshua.
God's actions are a confirmation of the truth and faithfulness of His Word through the prophets. His righteousness is demonstrated by the fulfillment of God's promises to Israel.
"Now therefore, O our God, listen to the prayer of your servant and to his pleas for mercy, and for your own sake, O Lord, make your face to shine upon your sanctuary, which is desolate". We must always ask God to show us His mercy – we deserve nothing but the Lord's mercy.
"Delay not, for your own sake, O my God, because your city and your people are called by your name." The ultimate is that whatever God does for Israel and for His people is for the good and interest of God Himself and for God's own city. We can ask for God to speed up our redemption and grant us His mercy, but the timing is His and He can delay or hasten the times. This ought to be a clear understanding when we pray. Yes, for us time is of essence because our life on this earth is limited and our patience is short, but we must remember that only the LORD himself knows the times and seasons and the day and the hour of our salvation.
We see in this prayer of Daniel the ending of his prayer – that God's City is Jerusalem. No matter what the United Nations and UNESCO will decide Jerusalem remains the City of the Great King – the City of God.
The situation in the whole world is becoming more complicated and I believe that it would be wise for us to pray for all the leaders of the great nations in the world, the USA, China, Russia, Germany, England, France. These leaders need much wisdom. The stage is set for a major world war that will start here in the Middle East. The big powers are setting up positions in Syria, and this becomes a place and a point of contention that could light up a fire that might turn into the last battle of history.
It seems like the entire world is now in a spin and the days of God's recompense are being shortened. As disciples of Yeshua we ought to know what is in store for us and what is waiting for the world. This does not necessarily lower our anxiety for our nations and billions who are still worshiping idols and living on God's good earth. I don't see the churches in the world walking out of their comfort zone to evangelize the pagan world. I don't see that leaders are seeking to be equipped spiritually or intellectually to face the false God's of our world who have more than half of humanity enslaved to their lies. For this reason, I pray to the Lord God Creator of the whole World to do what only He can and only He knows to gather the lost sheep back to His fold.
I believe that everyone who prays must pray for the salvation of the lost in God's World. Our God is the God of all flesh and loves the entire world and for this He sent His ONLY Begotten SON to this world. We His children who have tasted of His love and His mercy must at least pray for the salvation of the lost. I am not talking about the so-called "Church Growth." I am talking about saving those who don't know that there is a God who created this world and all the world. I am talking for those millions who don't know that God loves them. I am talking about those millions who don't know what is right and what is wrong, what is good and what is bad. I am talking about the millions who are not interested in Christianity even in the so called "Christian Countries." Our heart at least in prayer must be grieved for those lost and lift this grief and care for the souls who don't know the God of Abraham, Isaac, and Jacob (Israel). Pray for the lost and those in darkness to see the light that came to dwell here and put on flesh to be one of us!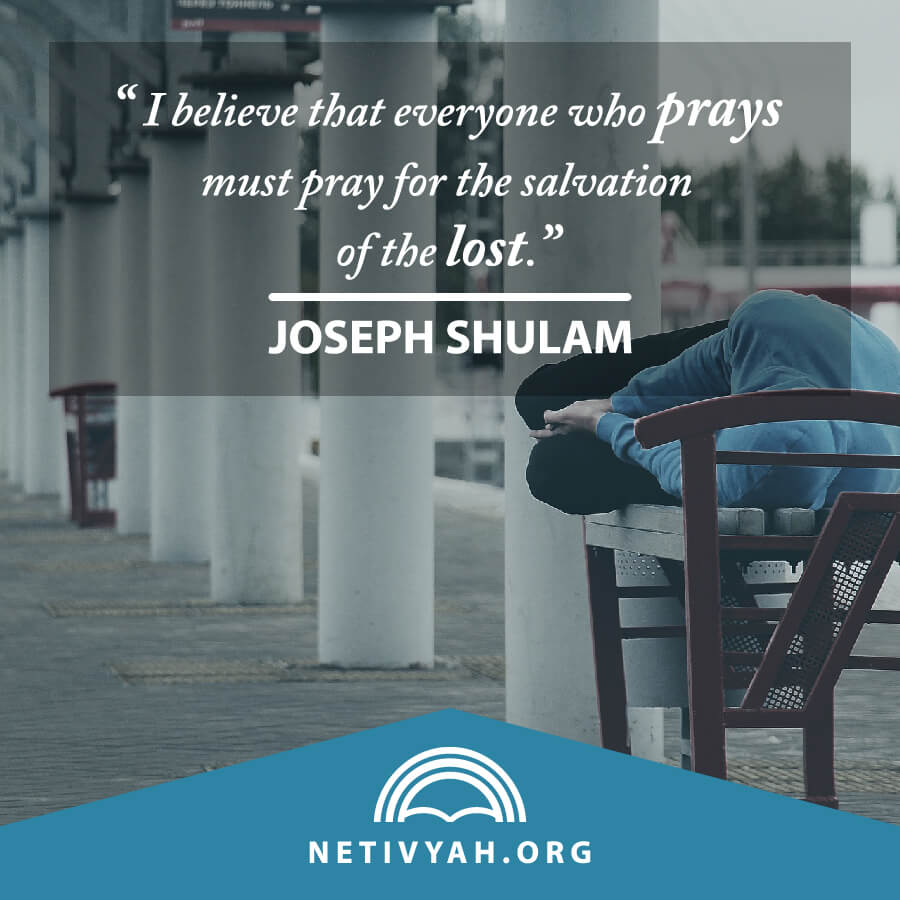 Of course, we have more immediate and mundane daily prayer requests.
Pray for the situation on our northern frontier. Iran and the Hezbollah, with the help of Russia and Syria, are setting up bases near our border. These military bases are a direct threat against Israel. They have sophisticated missiles that are much more advanced and accurate. These bases are not against anyone else. They are only against Israel. They want to limit Israel's ability to prevent Iran from arming and equipping the Hezbollah in Lebanon. These development in the region are very serious and concerning to all of Israel. We need your prayers for the LORD Himself to come to our aid and deliver us from this evil.
The Lord is slow but sure building up the body of the Messiah in this land, both from within and from without. However, our challenges are still gigantic from within and from without. It is easier to write about our challenges from without.

The need to do more public service ministry and cooperate with the government and with the community is essential. I am speaking as a Jewish Disciple of Yeshua in the land of Israel. Christians are giving many millions of dollars to Israel and to good charities, and non-profit organizations who are doing much good for the poor and the holocaust survivors, students, and encouraging Jewish youth from around the world to visit Israel and to immigrate to Israel. As Jewish Disciples of Yeshua in the Land, people who serve in the army and outside of the army to do good for our nation. As people who have both a presence and a witness in this land, we too love our nation and our country, and we too do humanitarian work and serve the poor and the needy. Our ability to do so depends on the good will of Christians who love God and love Israel and not only want to help socially but want to have a living witness and presence of living Jews who are also brothers and sisters in the faith.
I am happy to announce that some brothers in the Jerusalem area are thinking of building a nursing and assisted living place for the older generation of the disciples of Yeshua in this land. There is only one such institution in Haifa that is limited in space and is doing a fine job, but far from the center of the country and not catering to the needs of more observant Jews. We appreciate what they are doing in Haifa and bless them, but it is too small and limited. We need another one and there are Jewish brothers in the Jerusalem area that are now beginning to pray and work to build this much needed place for our elderly brothers and sisters.
There is much more that can be said about these needs, but I see that this prayer letter is becoming too long.
Please continue to Pray for a young lady called Gabi. Gabi is in need of a special touch of God's Healing. She is 8 years old.
Continue to Pray for Julia. She is still in the hospital and feeling much better.
Please keep praying for a dear sister named Zhou Wenrilan living in China.
Keep praying for the planned conference in Portugal in May 2019. This conference is to awaken governments and the world attention and press for the Restoration of the Anussim (Marranos) both spiritually and physically to their naturals home.
Please pray especially for Marcia, my wife, and her health situations: Diabetic, Rheumatoid Arthritis, and some aging issues that need the Lord's merciful healing hands to touch Marcia and comfort and restore some of her physical strength and energy and give relief for her pain.
Please also pray for my daughter and granddaughter and their health and strength and provision.
Please praying for Alexandra, a young lady, a new bride. We are seeking the LORD's blessing for Alexandra and husband in healing and strength.
Please pray for Margareta, Ruby, Um Abu-Eid, Tineke, Bida, George, Gary, Melanie, Aharon, Yuri Marianenko, Sarit, Ahuva, Leah, Ilana, Miraim, Yehuda H., David Stern, Noaam and Danah our daughter and granddaughter, Paulo, Noami, Tim Tucker, Anne-Mirjami, Satu-Maria and Anna-Maiia, Sinni Tuuli, Erki and Sirpa, Jaako, Keijo and Salme, Evelina, Eva H., Horace and June Marcia's father and mother, Marcelo's parents. Curita Sensei, the Abe family, Toru, Takeo Sensei, Daisuke Sensei, Tomoko San, Sadako San, Yumi and her husband, and her family in Okinawa.
Please continue to pray for these special brothers and sisters who are struggling with issues of this world and need divine wisdom and help to have better work and jobs, and other issues that are not physical illness but tests and trials in life. Please pray for Mr. Chung and Sister Lee. Please pray for Tony and Luiza our dear brothers in H.K. I have special concern for our dear brother Goh and his family, and for Sister Christy, Sister Laurel, and for Brother Michael Kenzevic.
I think that it is absolutely wonderful that we can have such a great prayer network that encompasses the whole world and brings people from every background to pray for each other. The brotherhood of the Messiah, those who have access to the Mercy Seat of the Almighty by the blood of Yeshua, can care enough to take a moment of their day and mention brothers and sisters from the other side of the world. We have seen the hand of God move and answer prayers through the Jerusalem Prayer List – and we have seen some great victories and some instances that the LORD said – "No" – it is time for this brother or this sister to come home. Please take prayer seriously.
God bless and keep HIS promises to Abraham and bless all those who bless the Children of Abraham, Isaac, and Jacob. Keep you all healthy, blessed, and happy in all that the Lord is doing for you and for the world around you!
Now is the time to seriously pray for the Peace of Jerusalem and believe in God's promises!
Joseph Shulam
Sign up for the Jerusalem Prayer List
Periodical Updates Helping You Pray for Israel