Jerusalem Prayer List April 20, 2018
Today was Israel's 70th Anniversary of Independence. Our congregation had the traditional picnic in Park Danya. Each year on Israel's Independence Day our congregation has a picnic. We have two large grills and people bring their meat to grill. There is always too much food because people of the congregation bring extra food and there is always guest that appear for the picnic. Israeli people love to go out into nature and take their grill with them and tons of food to spend some time in nature, eating, and eating. Today like every year the Israeli air force did a flyover of all the different types of airplanes that they possess. For the first time today the F35 stealth fighters passed over the skies of Israel. Israel is truly an amazing country. Israel is built on the ashes of the World War II holocaust. A nation that for 2000 years had no homeland, no language, no government, not even a postal stamp has 12 Nobel prize winners since 1965.
Some of the inventions that were developed in Israel have changed the world:
Drip irrigation at an Israeli nursery.
Rooftop solar hot-water system.
A laser projection keyboard used with a tablet.
Iron Dome rocket interception system.
Disk on Key
Model of quasicrystals, discovered by Nobel prize winner Dan Shechtman of the Technion.
WAZE – GPS – International that is the best GPS system (still for free) guiding application.
Cherry Tomatoes of all shapes and colors.
The Quicktionary – a pen-sized scanner able to scan words or phrases and immediately translate them into other languages.
Laser Keyboard – virtual keyboard is projected onto a wall or table top and allows to type handheld computers and cell phones.
VocalTec (VoIP) based PC to Phone software solution – developed by Voice over Internet Protocol
The first Babylon, a single-click computer translation, dictionary and information source utility program, developed by Amnon Ovadia.
Umoove Israel is located in eye tracking only solution for face and software that invented a startup company high-tech,
ICQ and later procured by AOL.
Mirabilis software developed initially in 1996 by the Israeli company Instant Messaging.
Viber, Viber reached 200 million users in May 2013.
Talmon Marco entrepreneur American-Israeli, a proprietary cross-platform instant messaging voice-over-Internet Protocol application for smartphones.
GetTaxi, taxi drivers using the its proprietary GPS system, enabling users to order a cab either with their smartphone or through the company's website. It was founded by Israeli entrepreneurs Shahar Waiser and Roi More.
Vision-based Mobileye, many companies developing autonomous vehiclesrely on Mobileye's technology, providing warnings for collision prevention and mitigation.
The UZI submachinegun.
The Tavor IMI TAR – 21 – Submachinegun.
There are more important inventions that were developed in Israel in the last 70 years, but the greatest of all is that after near 2000 years of exile there is a Jewish State in the Land that God gave to Abraham and his seed forever. (See Genesis 13:15)
The fulfillment of God's promises to Abraham, Isaac, Jacob, King David, Isaiah, Jeremiah, Ezekiel, Hosea, Amos, and all the other prophets and Yeshua the Messiah and His Apostles.
We are living in an amazing generation where information without end is available to all at the touch of a small screen on our personal device like a smart-phone. Yes, with all that men have developed – the fulfillment of God's Word and promises stands above them all. A nation like the phoenix was dead and has come back to life.
In the park that we had the picnic today there are near 100 olive trees. In 1988 they were dumped there dry without a single green leaf and no roots. In 1990 they were planted in the empty field. After a major snow storm in Jerusalem in 1991 – the totally dry olive trees started to grow new branches and green leaves. Today we enjoyed the shade under these great olive trees that at one time were dead, dry, and useless and now are green and giving wonderful crop of olives for olive oil and olives for eating.
Please continue to Pray for a young lady called Gabi. Gabi is in need of a special touch of God's Healing. She is 8 years old.Continue to Pray for Julia. She is still in the hospital and feeling much better. Please keep praying for a dear sister named Zhou Wenrilan living in China. Keep praying for the planned conference in Portugal in May 2019. This is a major event that we hope to hold in Portugal to awaken governments and the world attention and press for the Restoration of the Anussim (Marranos) both spiritually and physically to their naturals home.
Pray for the finances of Netivyah. We are still not finished building the television and audio recording studio.
Pray for the seeds that we plant in the electronic media to bring fruit spiritually and in relationship and partnerships and cooperation of doing God's Work and spreading the Good News around the World.
Pray for the youth ministry of Netivyah. We have a new crop of youth that is just amazing and extremely talented and the youth leaders, Raphael and Yuda, are doing such a great job. They need prayer and guidance and protection and support. This is the third cycle of Munchkins that are being raised and trained to excellence in Netivyah. The leaders now are both "graduates" of the Munchkins program, Yuda is of the first cycle and Raphael is of the second cycle. There is good reason to invest and work with this wonderful youth and see them go into the Israel Defence Forces and serve their country and their Lord.
Pray for the Netivyah Scholarship program. We have already more than 20 years scholarships for students who are disciples of Yeshua who are students in a Bona-Fide Academic Institutes in Israel. These scholarships have been given and continue to be offered to disciples of Yeshua both Jewish and Arab. Now we are helping more than 15 students in the Universities of Israel, and next year we pray to the Lord for the provision to be able to help 20 students. The cost per student is 2000 dollars per year. This sum pays for Israeli students most of their tuition in the national universities in Israel. This is a big help to these future leaders in the country and in the Body of the Messiah. Please think to support this program.
Please pray especially for Marcia, my wife, and her health situations: Diabetic, Rheumatoid Arthritis, and some aging issues that need the Lord's merciful healing hands to touch Marcia and comfort and restore some of her physical strength and energy and give relief for her pain.
Please also pray for my daughter and granddaughter and their health and strength and provision.
Please pray for Alexandra, a young lady, a new bride. We are seeking the LORD's blessing for Alexandra and he husband in healing and strength.
Please pray for a dear Orthodox Jewish sister by the name of Margareta.
Please offer a special prayer for Ruby's health and strength to endure and ask God to heal Ruby.
Please keep praying for a dear old devout Muslim woman named Um Abu Eid. She is old and sick and in need of God's mercy.
Pray for Tineke a young woman who has a very serious situation with cancer.
Please continue to pray for Pastor George and Bida his wife from Belo-Horizonte, Brazil.
Please pray for the Museum of the Inquisition in Belo-Horizonte, Brazil and for the "Teaching from Zion Ministry" in the same city.
Pray for the conference that we are planning in Portugal for the Restoration of the Anussim back spiritually to their rightful identity as Jews and also physically home to Israel. The conference will be, the Lord willing, in May 2019.
Please continue to pray for these special brothers and sisters who are struggling with issues of this world and need divine wisdom and help to have better work and jobs, and other issues that are not physical illness but tests and trials in life. Please pray for Mr. Chung and Sister Lee. Please pray for Tony and Luiza our dear brothers in H.K. I have special concern for our dear brother Goh and his family, and for Sister Christy, Sister Laurel, and for Brother Michael Kenzevic, and Abe San and his family and his centenarian mother-in-law Sadako San in Japan.
Continue to pray for Gary and Melanie in Jerusalem.
Our dear brother in Finland Hillel – needs our prayers for several issues including health.
Aharon (Don and Nancy's Son) is still struggling with a tumor in his brain keep him in your prayers please! Also keep his family in your prayers. Yuri Marianenko is fighting a prostate cancer. He had surgery and is waiting for results.
Our wonderful older brothers and sisters need our prayers: Ahuvah Ben Meir, Sarit, Miriam, Ilana, and Leah. Yehuda H., our brother is also in need of God's gracious healing touch. I am adding a request for you to pray for a dear couple.
David Stern needs our prayers for strength and healing. Martha needs also our prayer for strength. The whole Stern family at this time needs special prayer.
We pray up our dear brothers and sisters Clara, Paulo, Naomi, Tim Tucker, Anne-Mirijami, Satu-Maria, Anna-Majia, Sinni Tuuli, Erki and Sirpa, Keijo and Salme, and Evelina, Eva H., Liz in Georgia, and Horace and June Marcia's parents. We especially lift before God's throne of mercy Marcelo's father and mother in Belo-Horizonte.
We pray for the following dear brothers and sisters: Pastor Curita in Tokyo, Toru San, and the husband of Yumi and for her father Ohara Sensei, Shoko San, Takeo Sensei and Tomoko San, the Abe family and Sadako San all in Japan.
I think that it is absolutely wonderful that we can have such a great prayer network that encompasses the whole world and brings people from every background to pray for each other. The brotherhood of the Messiah, those who have access to the Mercy Seat of the Almighty by the blood of Yeshua, can care enough to take a moment of their day and mention brothers and sisters from the other side of the world. We have seen the hand of God move and answer prayers through the Jerusalem Prayer List – and we have seen some great victories and some instances that the LORD said – "No" – it is time for this brother or this sister to come home. Please take prayer seriously.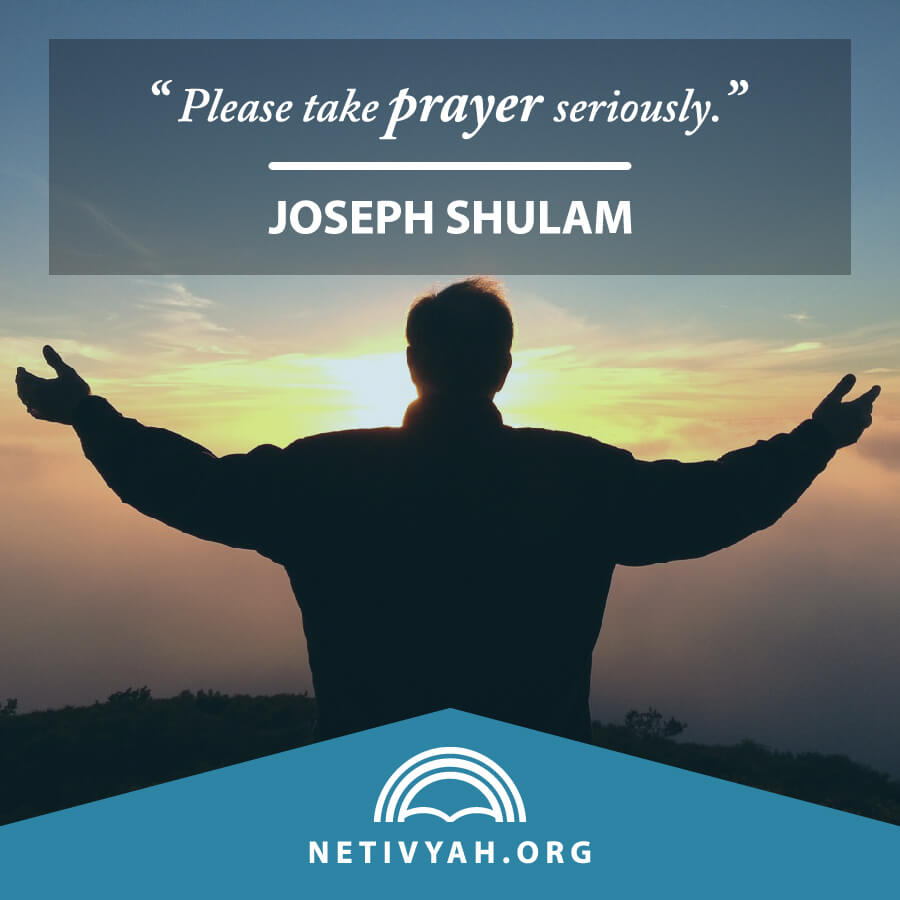 God bless and keep HIS promises to Abraham and bless all those who bless the Children of Abraham, Isaac, and Jacob. Keep you all healthy, blessed, and happy in all that the Lord is doing for you and for the world around you!
Now is the time to seriously pray for the Peace of Jerusalem and believe in God's promises!
Joseph Shulam
Sign up for the Jerusalem Prayer List
Periodical Updates Helping You Pray for Israel