Jerusalem Prayer List April 18, 2019
Happy Passover to all – Celebrate your liberation in Yeshua
This coming Shabbat is the first day of Passover. The reading of the Torah is from Exodus 12:21-51, Numbers 28:16-25, and the reading from the Prophets Joshua 3:5-7, 5:2-6:1, 27. New Testament reading is from Luke 22:7-20.
Friday evening is the Seder meal with the ceremonies that accompany it. The Seder is a collection of ceremonies and readings for the retelling of the story of Passover – the Exodus of the children of Israel from Egyptian bondage and slavery to freedom and to the land of Israel.
These events, like all the biblical historical events, were not "standalone" events. They are a part of God's promises to Abraham, Isaac, and Jacob. The enslavement of the Children of Israel was predicted to Abraham over 400 years earlier, and the Exodus from Egypt was predicted to Abraham at the same time:
"Then He said to Abram: 'Know certainly that your descendants will be strangers in a land that is not theirs, and will serve them, and they will afflict them four hundred years. And also the nation whom they serve I will judge; afterward they shall come out with great possessions. Now as for you, you shall go to your fathers in peace; you shall be buried at a good old age. But in the fourth generation they shall return here, for the iniquity of the Amorites is not yet complete.'" (Genesis 15:13-16)
Notice in this text from Genesis. Abraham sees a strange vision in a dream. The Lord tells him:
"'Bring Me a three-year-old heifer, a three-year-old female goat, a three-year-old ram, a turtledove, and a young pigeon.' Then he brought all these to Him and cut them in two, down the middle, and placed each piece opposite the other; but he did not cut the birds in two." (Genesis 15:9-10)
A deep sleep falls on Abraham and God promises Abraham that his descendants will be strangers in in a land that is not theirs, and will serve them, and they will be afflicted by their masters four hundred years.
God will then judge the nation that has afflicted the children of Israel and judge them. After these 400-year-old ordeals, the descendents of Abraham will return "here" i.e. to the land of Israel (Canaan). God also reveals the reason for this long and difficult excursion, "because the iniquity of the Amorites is not yet complete."
What we have here is a clear covenantal promise, prophecy, from the Lord to Abraham. In this prophecy the reason is given why the promise to Abraham that his seed will inherit the land forever will be delayed for 400 years. You have to ask the right questions:
Is it right for God to take the property of one ethnic group and give it to another ethnic group of people?
What makes it right?
Is God a righteous god who directs history, and does He have the right to do so?
Are His decisions the decisions of a despot/tyrant that arbitrarily moves peoples and nations around at his whim?
These are the questions that our generation, now in the 21st century, asks. It is important for us who walk with God like Abraham, and all of the children of men who follow the faith of Abraham, from his days until today. (The children of Abraham are those of every race and color who believe like Abraham and receive God's instructions and salvation through the Messiah Yeshua.)
Here are my answers for the questions above:
God is the creator of the whole world. Everything in this world is His. This is true for those who know God and for those who worship idols and don't know the one and only God who created all things both on Earth and in Heaven. God created the nations after the Tower of Babel. He has a plan to restore all the peoples of the world to Himself. God gave each nation it's territory, their land, and He has conditions and obligations for each nation. And if they are not fulfilling their obligations, He moves these nations around. Israel is a good example of a people who received the land that was promised to Abraham. Israel was warned by messengers – the prophets – and they did not hear and did not repent. And finally, God took them out of their land, and He scattered them among the nations. Only now, in our days, are some of Israel beginning return to the land. Yes, God has the right to move nations around. Empires and kingdoms rise and fall – God is doing it with good reasons and as an expression of His righteousness.
As the creator of the world, and because of His love for all the world, the Lord has to be righteous and just toward all. Out of His love for all the world and for the good of all, the Lord must make order and reward the righteous and punish the unrighteous.
This is what gives the Lord the right and the obligation to judge the world in righteousness. His righteousness will be known and visible to all in the Day of Judgement.
God is not a despot or a tyrant. Like every father, our heavenly Father, after many warnings and much communication, must train us and educate us and prepare us for our final destiny – to bring a blessing and salvation to the whole world. He does things that might seem to us hard, for our own education and training, that can't and ought not wait until it is too late to repent and change. For this reason, there are intermediate corrective steps that God takes to help be whom He designed us to be, and He gives us the opportunity to change before the great and terrible day of the Lord.
The Passover, the memory of the Exodus from Egypt, with the great miracle of the crossing of the sea on dry ground, becomes the model of salvation for all mankind. Therefore, we ought to celebrate it.
It is not an accident that Yeshua was crucified on the eve of Passover and raised three days later. It is a revelation of God's plan through the prophets of Israel, and a demonstration of God's control over history. As the apostle Paul wrote to the Corinthians:
"Therefore let us keep the feast, not with old leaven, nor with the leaven of malice and wickedness, but with the unleavened bread of sincerity and truth." (1 Corinthians 5:9)
We are celebrating Passover because God delivered us all from slavery, to ourselves, to the freedom of His servants down here and in Heaven.
Please continue to pray for Benjamin Netanyahu. He must create a coalition with numerous parties in order to build his cabinet and govern. It is a very hard task. Each small party wants too much and the bargaining is harder than to bargain with a merchant in the Old City of Jerusalem.
I realize that I am repeating some of these prayer requests more than once. The reason for these repetitions is simple. The repetition is because some of our prayers are not answered or not answered sufficiently. Like the old widow who knocked at midnight on the door of the judge until she was answered – I keep knocking on Heaven's door. Knock, knock, knock…
There are still places to join us on the Netivyah 40th Anniversary Tour. This will not be a normal tour that most of the tourists to Israel take. It will be a special tour with special events and places that the guests of Netivyah will experience.
It is a celebration of God's grace and goodness, allowing us to minister and serve Him for 40 years. We chose 40 years because of the story of the Exodus from Egypt and the 40 years of the wilderness. We see this as a step into the second period of our service to God, with new-generation leadership and a renewal of the vision and the mission that God has for Israel and for the disciples of Yeshua.
Please pray for the conference that will be held in the middle of the month of May in Castelo de Vide, Portugal. We need your prayer support and your material support to make this conference what God wants it to be.
I especially appeal to brothers and sisters in Europe to join this conference because the Catholic Inquisition was, generally-speaking, a European problem. We need our brothers from Italy and from Spain and Germany and Finland and Holland to make a major effort to come to Castelo de Vide and be a part of this effort to restore the Marrano/Anussim Jews back to their identity and back to Israel.
For information on how to attend this conference, please contact Daniel at Netivyah here.
You can also go to the web page of the Castelo de Vide municipality and see the program. It is not totally the final program, but you will get a picture of the important people who are going not participate in that conference.
Below is a nice flier prepared by the municipality of Castelo de Vide: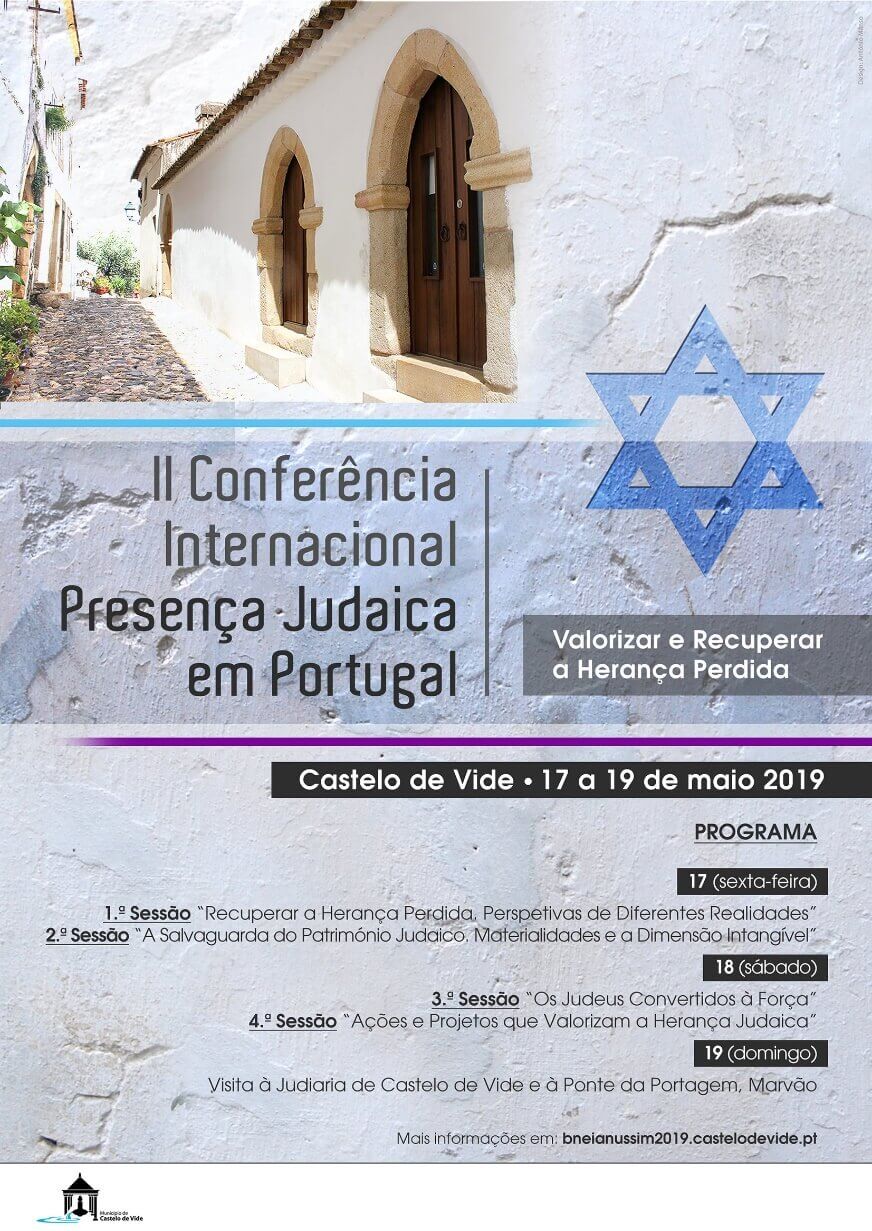 We have a very dear family living in Sweden that are faithful prayer partners for Israel and for Netivyah.  Pray for the Lucca family in Sweden. This precious family has been praying and standing with Israel for many years, and now several members of this family have some health challenges and need our prayers.
Our dear sister Ruby Little in Oklahoma is suffering from the aftermath of the chemotherapy. Ruby has to decide now if she will continue with more chemotherapy or defer this option.
Eli Levi is in Cincinnati, undergoing medical treatment for cancer. He is taking a second round of chemotherapy, and is already halfway through this second round. Please keep Eli in your prayers.
Please don't forget to pray for my family and especially for Marcia my dear wife, and Danah and Noaam and all those on this prayer list – that God will be glorified in their lives and in their healing. Keep Barry our son and his family in your prayers. It is so very important for the Shulam family to be under the wings of God's grace and stay firm in the faith, and raise their children in the Lord.
Keep Elena Litvak, Efim's widow, in your prayers.
Eddie Santoro is also in urgent need for prayer.
A dear brother and a leader of the Jewish Disciples of Yeshua in the United States, Robert (Bob) Weiner, needs us all to lift his name before the Lord God of Israel for healing and strength to go through heart surgery.
Netivyah is receiving so many messages of gratitude and thanks from the over 200 Messianic soldiers who are serving in the Israeli Defense Forces. Thank you all for standing with Netivyah and with our soldiers. Especially we are grateful for the partnership with our dear brothers in New Beginnings Church in Dallas, Texas.
We appreciate so much the contributions for the purchase of the van for Netivyah. The generosity of so many brothers from around the world has been wonderful, but we are now only halfway of what is needed to replace the Netivyah van.
Please continue to pray for Netivyah and the van that is needed so much for the work of feeding the poor of Jerusalem, serving the youth, the shopping every week for the HaMotzi food program, and for so many other very important services that are needed by both the congregation and Netivyah.
God is answering this prayer need, but He is challenging some of our brothers and sisters. As soon as the Lord will touch more hearts with this need, and we will have the necessary funds to make the purchase, we will inform all and praise the Lord together and pray a special blessing on all who take part in this mitzvah (good deed) for the poor of Jerusalem and for the ministry of Netivyah.
Please remember our dear brother Jacob Damkani in your prayers.
Dr. M. Song, from Korea, and his whole family needs our prayers. Dr. M. Song is one of the real knights of God's Kingdom in this century.
Pray for Courtney for healing and strength. Keep Um Abu-Eid in your prayers.
Please continue praying for baby Lion from the Huch family in DFW. Little Lion is doing better, but still far from being out of the woods.
Please continue to pray for our Jewish brother Hillel from Helsinki, and Keijo and Salme in Nokia, and for Tim Tucker, Anne-Mirjami, Satu-Maria and Anna-Majia, Sinni Tuuli, Erki and Sirpa, Evelina, and Eva H.
Pray for Patty, Andrea, and Tineke – all are in the Netherlands and need healing from God.
Continue to pray for Julia and Victor. Pray for our dear sister Paula in Switzerland who needs a divine breakthrough.
Please keep praying for a dear sister named Zhou WenriIan living in China. Please intercede for Pastor Isaac in Chennai. Pastor Isaac needs healing for his kidneys.
I am also asking you to pray for a dear sister Ema! She has a big burden for a big school that she has built in China. Now we beg the Lord to bless Sister Ema and the school and her husband.
Margareta told me recently that she feels the effects of your prayers for her. Please keep Margareta in your prayers. She feels a great improvement in her condition since you started to pray for her. This is nothing short of the hand of God touching healing into her body and mind.
Please lift in your prayers the following brothers and sisters who need the Lord's gracious touch of healing: George, Gary, Melanie, and Aharon Hook and Nancy. Also, our congregation members: Sarit, David S., Gabriela, Ahuva, Leah, Ilana, Hannah, young Gabriela, Zvi D. and Elisheva, and Jonathan. Our dear sisters Laurel, Orna, Sima, and Aviva.
A special prayer is needed for one of my godsons, David B.A., who is hospitalized in the USA. Please lift David before the throne of mercy, and our Savior will show David mercy.
These are brothers and sisters from around the world who need your prayer and your intercession and healing: Paulo, and Noami. Marcelo's parents, Curita Sensei, the Abe family, Toru, Takeo Sensei, Daisuke Sensei, Tomoko San, Yumi, and her father and family.
In Hong Kong, we pray and ask you to join us and pray for Louisa and Tony. Keep our dear brother Goh and his family in prayer. Pray for Sister Christy in Korea. Please keep Brother Michael Knezevich in prayer. Please add Ismael Alves who lives in Portugal, and Asher Gabriel in Kenya, to your prayers.
I wish all of you, who stand with Israel and who pray for Jerusalem, the best of the Lord's blessings and the fulfillment of all His promises to His faithful children. For the Lord is gracious and longsuffering and good to all, but especially to those who have faith and hear His word and do it.
Those who hear God and do His will are the ones who are called wise! Those who only hear His word and don't do it are called foolish! Let us all strive to be wise and never foolish! The best is yet to come! Israel will be saved!
Thank you all and know that we in Jerusalem love and appreciate you!
Joseph Shulam
Published April 18, 2019 | Updated July 4, 2019
About Joseph Shulam
Joseph Shulam was born in Bulgaria in 1946 to a Sephardic Jewish Family. In 1948 his family immigrated to Israel. In 1981, Joseph and the small fellowship that was started in his house established one of the first official non-profit organizations of Jewish Disciples of Yeshua in Israel – Netivyah Bible Instruction Ministry. Joseph has lectured extensively and has assisted in encouraging disciples around the world. He and his wife Marcia have two children and two grandchildren.
Sign up for the Jerusalem Prayer List
Periodical Updates Helping You Pray for Israel